Organisations and the Psychological Contract: Managing People at Work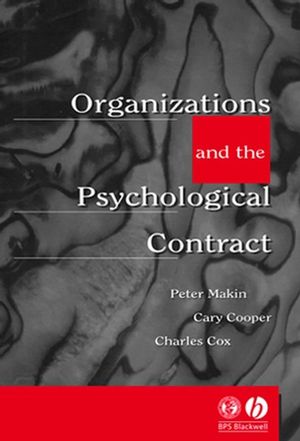 Organisations and the Psychological Contract: Managing People at Work
ISBN: 978-1-854-33168-7 April 1996 Wiley-Blackwell 420 Pages
Description
This is an excellent text for practising managers and students on management and occupational psychology courses. It deals with all aspects of organisational life from recruitment and selection to motivation, leadership and organizational change. The book provides a comprehensive coverage of all aspects of behaviour at work.
1. Selection, placement and careers.
2. Personality and individual differences at work.
3. Interpersonal perception and interaction.
4. Motivation.
5. Behavioural approaches to motivation.
6. Leadership and management styles.
7. Group dynamics.
8. Identifying organisational problems.
9. Organisational change.
10. Managing your boss.
11. Understanding and coping with change.
12. Empowerment and self-management.
'I congratulate the authors of this book for their comprehensive coverage of all aspects of behaviour at work. Although primarily written to be a textbook, and written by teachers of organisational psychology, it is by no means dry and academic.'
People Management
<!--end-->
'I recommend it for use particularly in graduate courses and for advance undergraduate courses. Corporations that provide their own in-house training and development programmes should also give this book serious consideration.' Journal of Occupational and Organisational Psychology.


This is an excellent text for practising managers and students on management and occupational psychology courses.


It deals with all aspects of organisational life from recruitment and selection to motivation, leadership and organizational change.


The book has two main aims in exploring these issues in the organisation context: to act as a handbook for practising managers, and as a basic text in management courses.


Relevant theories are explained and developed using practical examples, self-assessment exercises and case studies