Organization Change: A Comprehensive Reader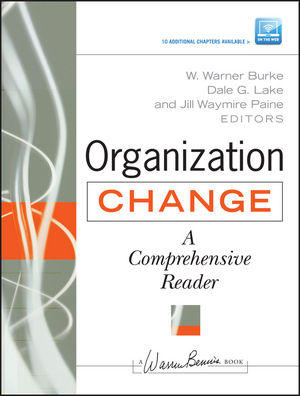 Organization Change: A Comprehensive Reader
ISBN: 978-0-470-26056-2
Dec 2008, Jossey-Bass
1016 pages
Description
This volume contains the must reads for a depth of understanding about organization change. Each of book's seventy-five papers included in this volume have launched their own fields of inquiry or practices and are the key readings for any student or practitioner of organization development. The most notable articles on organization development by such luminaries in the field as Bennis, Schein, Tichy, Tushman, Weick, Drucker, Quinn, Beckhard, O'Toole, Bridges, Hamel, Gladwell, and Argyris.
Chapter 1: Environment as Stimulus for Change Organization change is typically a reaction to a change in the external environment. The purpose of this chapter is to expand our understanding of these environmental changes and the planned organizational response to them.

Chapter 2: Theories & Models This chapter provides a theoretical overview of the literature on organization change.

Chapter 3: Diagnosing the Current State This chapter is designed to help scholars and practitioners diagnose the need for organization change.

Chapter 4: Understanding Resistance Psychologists have been dedicated to understanding resistance to change and helping leaders respond to it for more than half a century. Beginning with the classic article by Coch & French (1948), this chapter addresses the nature of resistance to change at the individual, group and organizational levels.

Chapter 5: Change Interventions Individual, group and organizational level change interventions are included in this chapter.

Chapter 6: Key Roles in Planned Change This chapter focuses on the roles that leaders, groups, teams and internal organizational members play in organization change.

Chapter 7: Building Knowledge of Changing Through Assessment This chapter is designed to provide a deeper understanding of the role of assessment in change and to help scholars and practitioners measure the effectiveness of change initiatives, the overall change process and continuous learning and growth.

Chapter 8: The Future of Planned Change The final chapter will address future directions in the study and practice of organization change.
chapter 08 Toward a Theory of Motive Acquisition
This bonus chapter is in PDF format. You will need Adobe Reader to view it.
Download
chapter 09 Nature Intervenes: Organizations as Organisms
This bonus chapter is in PDF format. You will need Adobe Reader to view it.
Download
chapter 11 Evolution and Revolution as Organizations Grow
This bonus chapter is in PDF format. You will need Adobe Reader to view it.
Download
chapter 14 Organizational Change and Development
This bonus chapter is in PDF format. You will need Adobe Reader to view it.
Download
chapter 23 Change Resisted Thirty-Three Hypotheses Why
This bonus chapter is in PDF format. You will need Adobe Reader to view it.
Download
chapter 33 Selecting Personnel for a System 4 Organization
This bonus chapter is in PDF format. You will need Adobe Reader to view it.
Download
chapter 38 Dilemmas of Managing Participation
This bonus chapter is in PDF format. You will need Adobe Reader to view it.
Download
chapter 41 Creating a Climate and Culture for Sustainable Organizational
This bonus chapter is in PDF format. You will need Adobe Reader to view it.
Download
chapter 43 "All We Like Sheep--" (Isaiah 536) Followers
This bonus chapter is in PDF format. You will need Adobe Reader to view it.
Download
chapter 46 The Discipline of Teams
This bonus chapter is in PDF format. You will need Adobe Reader to view it.
Download