Organization Development: A Data-Driven Approach to Organizational Change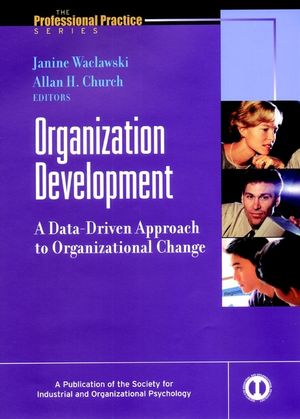 Organization Development: A Data-Driven Approach to Organizational Change
ISBN: 978-0-787-95718-6
Nov 2001, Pfeiffer
400 pages
Description
This hands-on guide--for planning, diagnosing, implementing, and evaluating organization development interventions--gives scientifically based information, tools, suggestions, and guidelines for those who must manage the human side of change.

In Organization Development, leading experts and pioneers:
* Present a unified framework for understanding OD
* Demonstrate OD's effectiveness for improving individual and organizational performance
* Specify what types of goals, values, practices, and interventions should (and should not) represent OD

You'll gain a clear understanding of the processes, approaches, and strategies that have been proven to work in managing organizational change. Plus, you'll get a wealth of charts, materials, and checklists, as well as useful practice tips.
Buy Both and Save 25%!
Original Price:$151.95
Purchased together:$113.96
save $37.99
Cannot be combined with any other offers.
Foreword (Eduardo Salas).

Preface.

The Authors.

Part One: Quantitative and Qualitative Approachesto Organization Development.

1 Introduction and Overview of OrganizationDevelopment as a Data-Driven Approach forOrganizational Change (Janine Waclawski, Allan H. Church).

2 Multisource Feedback for OrganizationDevelopment and Change (Allan H. Church, Alan G. Walker, Joel Brockner).

3 The Role of Personality Assessment inOrganization Development (W. Warner Burke, Debra A. Noumair).

4 Surveys as a Tool for Organization Developmentand Change (Salvatore V. Falletta, Wendy Combs).

5 Interviews and Focus Groups: QuintessentialOrganization Development Techniques (Janine Waclawski, Steven G. Rogelberg).

6 Organization Development and the Bottom Line:Linking Soft Measures and Hard Measures (Steven H. Cady, Mark J. Lewis).

Part Two: Process-Based Approaches to Organization Development.

7 Process Consultation: A Cornerstone ofOrganization Development Practice (William M. Kahnweiler).

8 The Heart of It All: Group- and Team-BasedInterventions in Organization Development (Richard W. Woodman, William A. Pasmore).

9 Action Learning (Victoria J. Marsick, Judy O Neil, Karen E. Watkins).

10 Appreciative Inquiry: The New Frontier (Stephen P. Fitzgerald, Kenneth L. Murrell, H. Lynn Newman).

11 Understanding and Using Large SystemInterventions (Barbara Benedict Bunker, Billie T. Alban).

Part Three: Major Developments in OrganizationDevelopment.

12 Organization Development and IT: Practicing ODin the Virtual World (Nancy T. Tippins).

13 Around the World: Organization Development inthe International Context (Michael Marquardt).

14 Evaluating the Impact of Organization DevelopmentInterventions (Jennifer W. Martineau, Hallie Preskill).

15 Organization Development Ethics: ReconcilingTensions in OD Values (Gary N. McLean, Susan H. DeVogel).

16 Voices from the Field: Future Directions forOrganization Development (Allan H. Church, Janine Waclawski, Seth A. Berr).

Name Index.

Subject Index.
""Organizational Development admirably meets its goals."" (Quality Progress, November 2002)