Organizational Architecture: Designs for Changing Organizations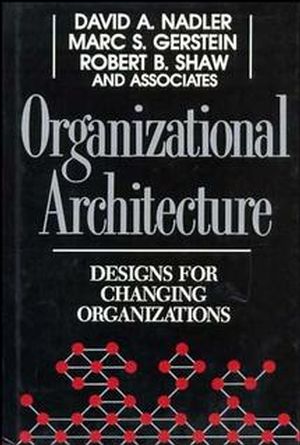 Organizational Architecture: Designs for Changing Organizations
ISBN: 978-1-555-42443-5 May 1992 Jossey-Bass 304 Pages
Description
Reveals emerging techniques for answering the challenges senior managers face today: improving organizational quality, inspiring team performance, and creating powerful long-range strategy. Presents a proven model for understanding organizations and demonstrates how it can be used to effect positive change in organizational systems.
Introduction: Organizational Architecture: A Metaphor for Change.

ARCHITECTURES OF CHANGE.

1. From Machine Bureaucracies to Networked Organizations: An Architectural Journey.

2. Designing Organizations That Have Good Fit: A Framework for Understanding New Architectures.

DESIGNING FORMAL ORGANIZATIONAL ARRANGEMENTS.

3. Managing the Dynamics of Acquisitions: Successfully Moving from Decision to Integration.

4. Building Strategic Partnerships: Creating and Managing Effective Joint Ventures.

5. Designing High-Performance Work Systems: Organizing People, Work, Technology, and Information.

TRANSFORMING THE INFORMAL ORGANIZATION.

6. Implementing Total Quality Management: A Process of Cultural Change.

7. The Capacity to Act: Creating a Context for Empowerment.

8. Teaching Organizations to Learn: The Power for Productive Failures.

DESIGNING SENIOR MANAGEMENT.

9. Strategic Selection: Staffing the Executive Team.

10. Teamwork at the Top: Creating Executive Teams That Work.

11. Strategic Choice: Engaging the Executive Team in Collaborative Strategy Planning.

THE ROAD FROM DECLINE TO COMPETITIVENESS.

12. Key Leverage Points for Improving Competitive Performance.

13. Organizational Architecture for the Twenty-First Century.
"Designing and implementing an organization that is effective for a particular business is one of the most significant and highly leveraged responsibilities of senior executives. Organizational Architecture is unique in fully exploring the various structural options available in meeting this responsibility, while at the same time giving invaluable information on the implementation process itself." (Roger G. Ackerman, president, Corning, Inc.)