Organizational Behavior, 12th Edition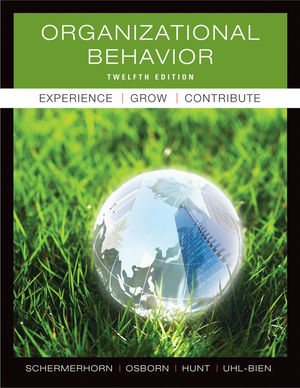 Organizational Behavior, 12th Edition
ISBN: 978-0-470-87820-0
Nov 2011
648 pages
Product not available for purchase
Description
We've Got You Covered for your Organizational Behavior course. Wiley provides the most current content, comprehensive resources and flexible format options to help teachers teach and students learn. Our commitment to Currency, Global Issues, Sustainability and Learning Outcomes translates into a suite of teaching and learning options that seamlessly integrate into your management courses.

Organizational Behavior 12e connects OB concepts with applications and is the clearest, most current and applicable OB text today - helping students understand how they can thrive in the world of work. Through experiential exercises and activities that ask students to evaluate themselves as leaders and colleagues, students are encouraged to reflect, grow and understand how they can contribute their professional and social environments.

Known for sound pedagogy, research, and a rich framework of personal and organizational skills, OB 12e presents students with a full portfolio of concepts and applications. In addition, the 12th Edition continues to emphasize global business issues important for future generations, including ethics, leadership, and sustainability.
part 1
Organizational Behavior Today
1 Introducing Organizational Behavior 3
part 2 Individual Behavior and Performance
2 Individual Differences, Values, and Diversity 25
3 Emotions, Attitudes, and Job Satisfaction 53
4 Perception, Attribution, and Learning 75
5 Motivation Theories 101
6 Motivation and Performance 121
part 3 Teams and Teamwork
7 Teams in Organizations 145
8 Teamwork and Team Performance 169
9 Decision Making and Creativity 195
10 Conflict and Negotiation 219
part 4 Influence Processes and Leadership
11 Communication and Collaboration 241
12 Power and Politics 263
13 Leadership Essentials 291
14 Leadership Challenges and Organizational Change 319
part 5 Organizational Context
15 Organizational Culture and Innovation 347
16 Organizational Goals and Structures 373
17 Strategy, Technology, and Organizational Design 399
OB Skills Workbook
Learning Style Inventory W-9
Student Leadership Practices Inventory W-13
Self-Assessment Portfolio W-33
Team and Experiential Exercises W-55
Cases for Critical Thinking W-99
OB Module Online
Research Methods in OB
 •
NEW WileyPLUS Version 5:
The new WileyPLUS online learning environment gives students a clear roadmap to success by telling them what to do, how to do it and if they did it right.
•
NEW Fast Company, 30-Second MBA Videos: 
Video collection that features Fast Company's 30-Second MBA videos, an ongoing video "curriculum" of insightful advice from business leaders of today.
•
New Pedagogy:
The new edition features "OB and Popular Culture," "Finding the Leader in You" and "Taking it Online" - all activities that help students connect OB concepts to the real-world.
• OB Skills Workbook: Includes the Jossey-Bass/Pfeiffer Classroom Collection, Case for Critical Thinking, Experiential Exercises, and Self-Assessment Inventories.
• Integrated Study Guide: Featured at the end of each chapter, study guides provide review, assessment and practice.
• Environmental and Sustainability Coverage: Examples and cases in the text, supplemental videos and experiential exercises illustrate the relationship between people and organizations of high integrity and superior performance.