Organizational Behavior, 13th Edition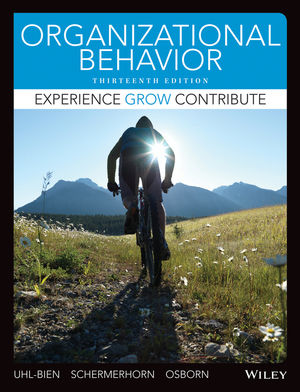 Organizational Behavior, 13th Edition
ISBN: 978-1-118-79997-0
Oct 2013
600 pages
Description
This text is an unbound, three hole punched version.
Uhl-Bien/Schermerhorn, Organizational Behavior 13th Edition is written in an accessible style, with pedagogical features designed to bring OB to life. The text relays the value of OB for the workplace and for life, and the value of equally engaging students in this passion so they embrace the material and want to learn even more.
Accompanying Organizational Behavior 13th Edition is WileyPLUS, a research-based, online environment for effective teaching and learning. This online learning system provides students with a variety of study tools, a complete e-text and practice quizzes with instant feedback. For instructors, WileyPLUS offers automatically graded assignments or tests and a gradebook for monitoring student progress. Available in or outside of the Blackboard Learn Environment, WileyPLUS resources help reach all types of learners and give instructors the tools they need to enhance course material.
WileyPLUS sold separately from text.
Part 1 Organizational Behavior Today
Chapter 1 - Introducing Organizational Behavior 
Part 2 Individual Behavior and Performance
Chapter 2 - Diversity, Personality, and Values
Chapter 3 - Perception, Attribution, and Learning
Chapter 4 - Emotions, Attitudes, and Job Satisfaction
Chapter 5 - Motivation
Chapter 6 - Motivation and Performance 
Part 3 Teams and Teamwork
Chapter 7 - The Nature of Teams 
Chapter 8 - Teamwork and Performance 
Chapter 9 - Decision Making and Creativity 
Chapter 10 - Conflict and Negotiation 
Part 4 Influence Processes and Leadership
Chapter 11 - Communication
Chapter 12 - Power and Politics 
Chapter 13 - The Leadership Process
Chapter 14 - Leadership Traits and Behavioral Styles
Part 5 Organizational Context
Chapter 15 - Organizational Culture
Chapter 16 - Organizational Structures 
OB Skills Workbook  
OB Module Online
Research Methods in OB