Organizational Behavior, 3rd Edition International Student Version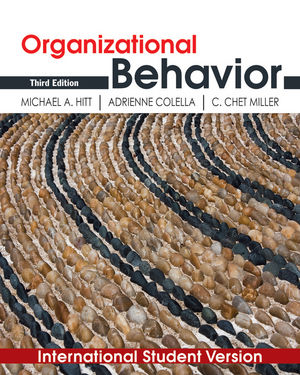 Organizational Behavior, 3rd Edition International Student Version
ISBN: 978-0-470-87371-7
Dec 2010
540 pages
Product not available for purchase
Description
Hitt's engaging book will help managers understand the linkage between managing behavior effectively and the organisation's ability to formulate and implement its strategy. It emphasises the relationship between management effectiveness and company performance. A case study on Whole Foods is integrated throughout the chapters and covers all major organisational behavior topics. It also underscores how people are important assets to organisations, and how application of their knowledge and skills is necessary for organisations to accomplish their goals. Managers will gain the skills to make a strategic impact within their organisations.
Preface.
OPENING CASE STUDY Whole Foods, Whole People.
PART I The Strategic Lens.
1 A Strategic Approach to Organizational Behavior.
2 Organizational Diversity.
3 Organizational Behavior in a Global Context.
PART II Individual Processes.
4 Learning and Perception.
5 Personality, Intelligence, Attitudes, and Emotions.
6 Work Motivation.
7 Stress and Well-being.
PART III Groups, Teams, and Social Processes.
8 Leadership.
9 Communication.
10 Decision Making by Individuals and Groups.
11 Groups and Teams.
12 Conflict, Negotiation, Power, and Politics.
PART IV The Organizational Context.
13 Organizational Structure and Culture.
14 Organizational Change and Development.
New Management Weekly Update Site: Keep you and your students updated and informed on the very latest in business news stories. Each week you will find links to 5 new articles, video clips, business news stories, and so much more with discussion questions to elaborate on the stories in the classroom. http://wileymanagementupdates.com
New Lecture Launcher Videos: Complete new and modern video series sparks discussion in the classroom
New Part Ending Cases: Completely new and engaging cases brought back by popular demand
Research updates: Approximately 300 new references from the research literature and many more from popular press articles on managerial practice
New Human Resource Management Applications: These sections explain how individuals in the human resource management function can use major OB concepts to more effectively manage human capital in the organization.
Big-picture framework: Helps students understand the value of OB to organizational performance and to their future careers, through page long sections like "The Strategic Importance of...," "Managerial Advice," and "Experiencing Strategic Organizational Behavior."
Building Your Human Capital: A personal assessment instrument included in each chapter helps students better know themselves and develop needed skills in organizational behavior.
Strategic and Critical Thinking: The Strategic Lens section at the end of each chapter helps students think critically about OB and includes Critical Thinking Questions.
Thought Provoking Ethical Questions: Thinking about Ethics presents an opportunity for point/counterpoint discussions around key OB topics.