Organizational Behavior, 4th Edition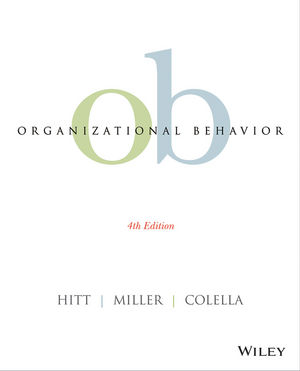 Organizational Behavior, 4th Edition
ISBN: 978-1-119-03102-4
Oct 2014
544 pages
Description
Organizational Behavior Fourth Edition helps students understand the impact of effective management of people, teams and groups on organizational performance. Through this strategic framework, the authors illustrate organizational behavior as critical to implementing strategy, gaining competitive advantages, and ensuring positive organizational results. The 4th Edition includes the latest research and literature pertaining to pressing topics like global contexts, motivation and leadership. With features that offer managerial advice, highlight strategic initiatives and provide opportunities for self-assessment and analysis, the text encourages students to understand the value of OB to organizational success and to their future careers.
Opening Case Study: Whole Foods, Whole People
Part I: The Strategic Lens
Chapter 1: A Strategic Approach to Organizational Behavior
Chapter 2: Organizational Diversity
Chapter 3: Organizational Behavior in a Global Context
Part I Case Study: Cooperating and Communicating Across Cultures (Online Only)
Part II: Individual Processes
Chapter 4: Learning and Perception
Chapter 5: Personality, Intelligence, Attitudes, and Emotions
Chapter 6: Work Motivation
Chapter 7: Stress and Well-Being
Part II Case Study: Brussels and Bradshaw (Online Only)
Part: III Groups, Teams, and Social Processes
Chapter 8: Leadership
Chapter 9: Communication
Chapter 10: Decision Making by Individuals and Groups
Chapter 11: Groups and Teams
Chapter 12: Conflict, Negotiation, Power, and Politics
Part III Case Study: Bright And Dedicated: What More Do You Want? (Online Only)
Part IV: The Organizational Context
Chapter 13: Organizational Structure and Culture
Chapter 14: Organizational Change and Development
Part IV Case Study: Anna Frisch At Aesch Ag (Online Only)
Concluding Case Study: Organizational Culture at Dreamworks Animation (Online Only)
Cutting-Edge Research: The Fourth Edition includes over 500 new references from organizational behavior research literature and popular press articles on managerial practice.
Coverage of Current Issues in OB: New content related to topics like social learning theory, stretch goals, workplace bulling, and mood and emotion on decision making.


New and Revised Communication Coverage: The authors have reorganized the presentation of material to better emphasize individual level issues in communication and have added new sections on communication styles and virtual worlds.


New and Revised Management Coverage: The authors incorporated new content on managerial change capabilities and dynamic capabilities, along with a discussion of goal-based leadership which replaced material on management by objectives.
Unique Focus: Unlike other OB texts, the authors use the perspective of an organization's strategy as a guide, emphasizing how effective behavioral management relates to organizational strategy and performance.


Big-picture Framework: Helps students understand the value of OB to organizational performance and to their future careers, through sections like ""The Strategic Importance of...,"" ""Managerial Advice,"" and ""Experiencing Strategic Organizational Behavior.""


Building Your Human Capital: A personal assessment instrument included in each chapter helps students to understands their strengths and develop vital organizational behavior skills.


The Strategic Lens: Explains the topic of the chapter through the lens of organizational strategy with Critical Thinking Questions designed to help students consider the topic and its effects on an organization.


WileyPLUS Learning Space: WileyPLUS Learning Space is an easy way for students to learn, collaborate, and grow. With WileyPLUS Learning Space, students create a personalized study plan, assess progress along the way, and make deeper connections as they interact with the course material and each other.
Through a combination of dynamic course materials and visual reports, this collaborative learning environment gives you and your students immediate insight into strengths and problem areas in order to act on what's most important.