Organizational Behavior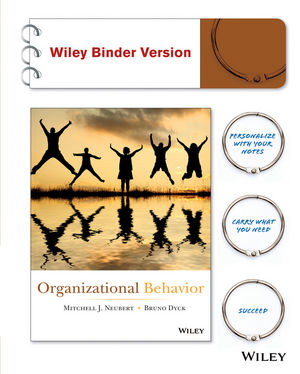 Organizational Behavior
ISBN: 978-1-118-15333-8
Dec 2013
504 pages
Description
Unlike any other OB textbook in the market, Neubert and Dyck's Organizational Behavior, Binder Ready Version empowers students to look at OB through two lenses: the traditional, core concepts that focus on how to make a company profitable, and the collaboration, creativity, and ethical decision making that lead to developing sustainable businesses. By inviting students to compare and contrast short-term profitability and long-term sustainability, Organizational Behavior helps students build the critical thinking skills needed to positively affect organizations, people, and communities. This text is an unbound, binder-ready edition. WileyPLUS sold separately from text.
Chapter 1 - Putting People First
Chapter 2 - Exploring The Landscape Of OB
Chapter 3 - Understanding Individual Attributes
Chapter 4 - Considering Individual States
Chapter 5 - Motivating Individuals
Chapter 6 - Making Decisions
Chapter 7 - Leading Self
Chapter 8 - Understanding Relationships
Chapter 9 - Leading Others
Chapter 10 - Groups And Teams
Chapter 11 - Communicating With Purpose
Chapter 12 - Understanding Organizational Culture And Structure
Chapter 13 - Developing Organizational Culture And Structures
Chapter 14 - Motivating With Systems
Chapter 15 - Leading Organizational Change
Chapter 16 - Creating Organizations
Dual Approach: Helps instructors draw attention to a more holistic understanding of organizations and their place in the world-- today and in the future. 
Focus on Ethics & Sustainability: By exploring the reasoning for sustainable OB practices, students become more aware of how values and ethics influence business decisions.
Opportunity for Critical Thinking: Exploring two approaches to OB fosters students' critical thinking skills, as they compare and contrast concepts and realize how to integrate complementary views.
Chapter Navigators: the authors start each chapter with a visual outline of how students will progress through the chapter content. Chapter Navigators are featured throughout each chapter—under each major heading—to let students know where they are in the chapter, to identify the concepts they've covered, and see what material is ahead.
Inspiring Practitioner Examples: Through examples and cases the authors highlight managers who can inspire students to make a difference in the world.
Timely: the text reflects current trends in popular media and scholarly literature, and especially the movement of people seeking greater meaning in their work.