Organizational Behaviour, 2nd Edition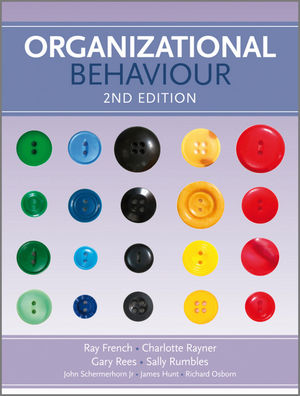 Description
Combining a managerial approach, this text enables existing and aspiring managers to meet increasingly challenging performance targets, with a rounded and critical perspective, that questions and looks deeper into the research behind the theories. The concise coverage of the core topics can be applied to both one-semester and year-long teaching and learning patterns. In addition, this colourful and well-presented text includes full journal articles at the end of each section and excellent case material
About the authors.
How to use this book.
Preface.
Acknowledgements and Photo Credits.
PART 1 INTRODUCTION.
CHAPTER 1 What is organizational behaviour?
JOURNAL ARTICLE.
PART 2 INDIVIDUAL DIFFERENCES AND THEIR RELEVANCE TO WORK.
CHAPTER 2 Perception, personality and values.
CHAPTER 3 Learning, reinforcement and self-management.
CHAPTER 4 Motivation and empowerment.
JOURNAL ARTICLE.
PART 3 MANAGING THE ORGANIZATION.
CHAPTER 5 Changing worlds and the design of work.
CHAPTER 6 Organizational structure and design.
CHAPTER 7 Organizational culture.
JOURNAL ARTICLE.
PART 4 PEOPLE, PROCESSES AND PERFORMANCE.
CHAPTER 8 Groups and teams.
CHAPTER 9 Leadership.
CHAPTER 10 Power, politics and decision making in organizations.
CHAPTER 11 Communication, confl ict and negotiation in organizations.
CHAPTER 12 Organizational change.
JOURNAL ARTICLE.
PART 5 CASE STUDIES.
Glossary.
Index.
Relevant new academic material published in 2008 and 2009 throughout the text as appropriate.

Updated opening vignettes across a number of chapters to maintain topical focus-'credit crunch' etc.

A stronger applied focus by stressing the relative applicability of all topic areas in work organisations.

Expanded coverage of emotion and identity and a more in-depth treatment of personality.
New video resource package with video case studies.
New pedagogical features, such as the Ethical Dilemma and Critical Thinking boxes, reinforce the critical approach.
Reinforces the critical approach taken in the previous editions of  this text by firstly including examples of unethical or otherwise negative behaviour on the part of organizations and secondly by including 'critical text boxes' which introduce alternative theoretical perspectives
Applies OB concepts squarely within a 21st century work and organizational context
A colourful and well presented text
Clear writing style
Includes theory and research data from other cultures
Refers to alternative theoretical perspectives, in parallel to the introduction of worldwide cases and examples
Includes examples from across all sectors including small businesses and not-for-profit organizations
Features real world examples in Opening Vignettes, OB in Action boxes, and numerous short and longer Case Studies
Includes Effective Manager boxes that offer practical advice and checklists
Counterpoint boxes highlight negative occurrences within workplaces and alternative political perspectives
Research in Action boxes link to additional journal articles available on the book companion website
Features Individual and Group activities, Running Projects, Discussion Questions and Assignments