Organizational Behaviour, Canadian Edition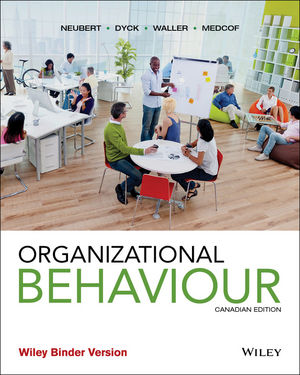 Organizational Behaviour, Canadian Edition
ISBN: 978-1-119-19432-3 February 2016 496 Pages
Selected type:
Loose-leaf
Description
Unlike any other OB textbook in the market, Neubert, Dyck, Medcof and Waller's, Organizational Behaviour empowers students to look at OB through two lenses: the traditional, core concepts that focus on how to make a company profitable, and the sustainable, collaborative, creative, and ethical decision making lens that students and many employers of today are looking for in business. By inviting students to compare and contrast short-term profitability and long-term sustainability, Organizational Behaviour helps students build the critical thinking skills needed to positively affect organizations, people, and communities.
Dual Approach: Helps instructors draw attention to a more holistic understanding of organizations and their place in the world-- today and in the future.
Focus on Ethics and Sustainability: By exploring the reasoning for sustainable OB practices, students become more aware of how values and ethics influence business decisions.
Opportunity for Critical Thinking: Exploring two approaches to OB fosters students' critical thinking skills, as they compare and contrast concepts and realize how to integrate complementary views.
"Road Maps" begin each chapter to provide students with a preview of what's ahead.
Inspiring Practitioner Examples: Through examples and cases the authors highlight managers who can inspire students to make a difference in the world.
Timely: the text reflects current trends in popular media and scholarly literature, and especially the movement of people seeking greater meaning in their work.
This edition of Neubert's Organizational Behaviour now has WileyPLUS with ORION available. Based on cognitive science, WileyPLUS with ORION, provides students with a personal, adaptive learning experience, so they can build their proficiency in various topics and use their study time most effectively. As well as ORION, this text will also have WileyPLUS LearningSpace. WileyPLUS Learning Space is an easy way for students to learn, collaborate, and grow. With WileyPLUS Learning Space, students create a personalized study plan, assess progress along the way, and make deeper connections as they interact with the course material and each other. Through a combination of dynamic course materials and visual reports, this collaborative learning environment gives instructors and students immediate insight into strengths and problem areas in order to act on what's most important.