Organizational Change in the Community College: A Ripple or a Sea Change?: New Directions for Community Colleges, Number 102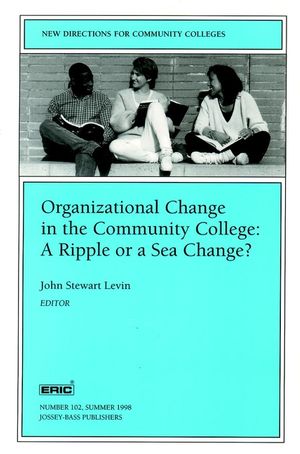 Organizational Change in the Community College: A Ripple or a Sea Change?: New Directions for Community Colleges, Number 102
ISBN: 978-0-787-94235-9
Aug 1998, Jossey-Bass
111 pages
Description
In order to adapt and survive, the community college, both institution and movement, constantly reinvents itself. Due to its broad mission, open access to students, and multiple functions, the community college is particularly receptive to new social and economic policy, as well as the latest business and education trends. This dynamic atmosphere offers both opportunities and pitfalls. A college's reaction to change helps determine its identity and goals, both as an individual institution and as a vehicle for social movement. This issue intends to give practitioners and scholars a comprehensive view of organizational change and behavior, so that they can understand and positively contribute to their own institution's experiences. The authors present real-life examples of community colleges' experiences with organizational change--both successful and unsuccessful--and examine organizational change through a variety theoretical frameworks including feminism and postmoderism.

This is the 102nd issue of the quarterly journal New Directions for Community Colleges.
1. Organizational Change and the Community College (John Stewart Levin).
2. In Search of Vision and Values: The Minnesota Higher Education Merger (Steven Wallace).
3. Shared Governance in California (Kenneth B. White).
4. An Organizational Response to Welcoming Students of Color (Berta Vigil Laden).
5. Making Sense of Organizational Change (John Stewart Levin).
6. Managing Change: A Case Study in Evolving Strategic Management (Linda Thor, et al.).
7. The Urban Community College in the Midst of Change (J. Marie Pepicello & Marsha Hopkins).
8. A Feminist Critique of Organizational Change in the Community College (Barbara K. Townsend & Susan B. Twombly).
9. The Postmodern Challenge: Changing Our Community Colleges (William Bergquist).
10.Sources and Information: Organizational Change in the Community College (Elizabeth Foote).