Organizational Ethics in Health Care: Principles, Cases, and Practical Solutions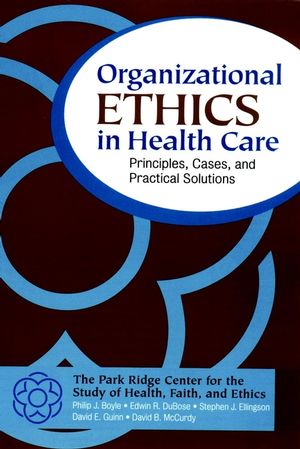 Organizational Ethics in Health Care: Principles, Cases, and Practical Solutions
ISBN: 978-0-787-95558-8
Jun 2001, Jossey-Bass
448 pages
Description
This comprehensive and much-needed resource helps health care ethicists to meet the demand of challenges such as managed care, medical technology, and patient activism. Through a review of core principles and a rich selection of cases, practitioners and students will learn to apply ethics in the day-to-day administration of health care organizations. The authors are from the Park Ridge Center, the nationally acclaimed consulting and research firm.
Buy Both and Save 25%!
Original Price:$170.00
Purchased together:$127.50
save $42.50
Cannot be combined with any other offers.
Foreword xiii
Laurence J. O'Connell
Preface xv
Acknowledgments xix
The Authors xxi
Part One
1 The Moral Ecology of Health Care Organizations 3
2 Organizational Theory, Culture, and Psychology: Tools for Organizational Ethics 29
3 Organizational Support for Ethical Behavior 52
4 Corporate Compliance and Integrity Programs: The Uneasy Alliance Between Law and Ethics 97
5 Managing Human Resources 112
6 Conflicts of Interest 146
7 Discretion and Control 178
8 Evaluating the Moral Life of an Organization: The Case of Resource Allocation Policies 204
9 Resource Allocation and Utilization: Structural Issues 221
10 Mission and the Bottom Line 247
Part Two: Cases
1 The Waiting Room 277
2 Nursing Strikes 279
3 A Gift, or an Obligation? 283
4 Obligations for Adequate Health Care Coverage 288
5 A Manager's Dilemma in Hiring 292
6 Conflict of Interest, or Just a Great Lunch? 296
7 Organizations and Spousal Equivalent Benefits 299
8 Organizational Teflon: Making Sure the Case Doesn't Stick 303
9 Investment Policy 306
10 Compassionate Sedation, or Euthanasia? Compassionate Communication, or Deceit? 309
11 Ethical Considerations in Charting 315
12 Executive Use of Discretionary Funds: The Bonus Pool 317
13 Integrating Spirituality in the Health Care Setting 320
14 Alternative and Complementary Medicine 323
15 Overstepping the Bounds of Expertise 326
16 Marketing Products and Practicing Medicine 329
17 Following the Rules, or Using Them as a Smokescreen? 333
18 Organizational Advancement and Corporate Compliance 337
19 The Compliance Officer and the Ethics Committee 341
20 Aggressive Accounting 344
Part Three: Appendixes
Appendix One: Joint Commission on Accreditation of Healthcare Organizations 349
Appendix Two: Sample Ethics Statements 361
Appendix Three: American College of Healthcare Executives: Code of Ethics 377
Appendix Four: Partnership Health Care: Conflict of Interest Policy 387
Recommended Reading 393
Index 401
""This book is one of the most effective handbooks on health-care OE."" (
The National Catholic Bioethics Quarterly
, Summer 2004)
""...has won the James A. Hamilton book of the year award, sponsored by the American College of Healthcare Executives."" (AHA News, 3/02)
""The index is thorough, and tables and checklists enhance the text."" (E-Streams, 3/02)