Organizational Psychology and Development: A Reader for Students and Practitioners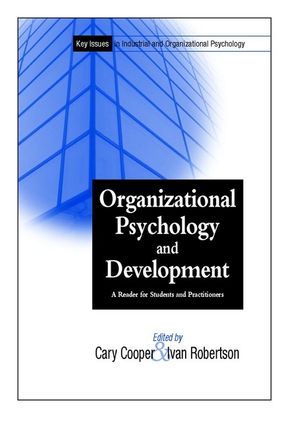 Organizational Psychology and Development: A Reader for Students and Practitioners
ISBN: 978-0-471-49556-7
Jun 2001
456 pages
Product not available for purchase
Description
A series of three books which are themed collections of reprinted articles from the International Review of Industrial and Organizational Psychology (IRIOP) from 1997-2001. Each volume provides collections around a topic area, with new introductions written by the editors for each volume. Written by leading scholars with international reputations in their fields, this authoritative collection provides a high quality, review that will be an invaluable resource for students, researchers and practitioners.
* Topic focussed, 'best of' collections on a specific theme conveniently incorporated into one book
* Ideal for graduate study, dissertations, projects, seminars
In this volume, the individual within the context of the organisation is examined at three different levels: individuals in organisations; groups and teams; and organisation issues. Together they cover issues such as alternative ways of working, career progression and individuals in teams and groups.
About the Editors.

Contributors.

Introduction.

INDIVIDUALS IN ORGANIZATIONS.

Conceptual and Empirical Gaps in Research on Individual Adaptation at Work (David Chan).

The Psychology of Careers in Organizations (John Arnold).

Managerial Career Advancement (Phyllis Tharenou).

A New Kind of Performance for Industrial and Organizational Psychology: Recent Contributions To The Study of Organizational Citizenship Behavior (Denis W. Organ and Julie Beth Paine).

GROUPS AND TEAMS.

Team Effectiveness in Organizations (Michael A. West et al).

Conflict and Performance in Groups and Organizations (Carsten K.W. De Dreu, et al.).

ORGANIZATIONAL ISSUES.

Progress in Organizational Justice: Tunneling Through The Maze (Russell Cropanzano and Jerald Greenberg).

Consequences of Alternative Work Schedules (Catherine S. Daus, et al.).

Impacts of Telework on Individuals, Organizations And Families -
A Critical Review (Udo Konradt, et al.).

Psychology of Strategic Management (Gerard Hodgkinson).

Subject Index.
"One strength of these books is their international focus ... the collection includes many contributions on cutting-edge issues." (THES, 29 March 2002)
"…recommend this text to a wide audience…." (Personnel Review, Vol.34. No.4 2005)