Organizing Do-It-Yourself For Dummies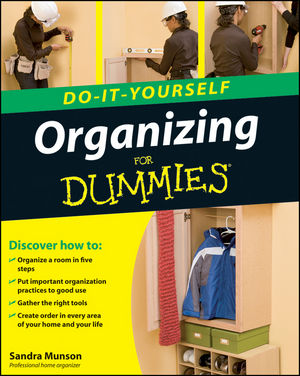 Organizing Do-It-Yourself For Dummies
ISBN: 978-0-470-53829-6
Jul 2009
192 pages
Product not available for purchase
Description
Do-it-Yourself
Organizing for Dummies
Discover how to:
Organize a room in five steps

Put important organization practices to good use

Gather the right tools

Create order in every area of your home and your life
Sandra Munson
Professional home organizer
Do-it-Yourself
Take control of your space and bring harmony back to your life!
Do you have too much stuff? Need to bring order back to your home? Now you can do it yourself!
From organizing a closet to reclaiming your home office to handling a complete garage makeover, you can easily eliminate household clutter. This practical guide is filled with hands-on projects featuring lists of materials; detailed instructions; and step-by-step, full-color photos. Now youcan confidently tackle your house room by room!
Stuff you need to know:
Discover the tools and time you need to organize

Declutter your kitchen

Create blissful bedrooms and clean closets

Play up your kids' spaces

Learn to love yourlaundry room

And much more!
Introduction.
Part I: Preparing for Your Organizing Projects.
Chapter 1: The Principles of Do-It-Yourself Organization.
Chapter 2: The Tools and Time You Need.
Chapter 3: Nailing Down Carpentry Fundamentals.
Part II: Organizing Primary Spaces in Your Home.
Chapter 4: First Impressions: Streamlining Your Entryway and Living Room.
Chapter 5: Decluttering Your Kitchen.
Chapter 6: Blissful Bedrooms and Cleansed Closets.
Chapter 7: Up, Off, and Away! Organizing Your Bathroom.
Chapter 8: Organized Home Office, Organized Life.
Part III: Organizing Secondary Spaces in Your Home.
Chapter 9: Playing Up Kids' Spaces.
Chapter 10: Learning to Love Your Laundry Room.
Chapter 11: Giving New Life to Your Garage.
Part IV: The Part of Tens.
Chapter 12: Ten Time-Saving Organization Tips.
Chapter 13: Ten Tips for Maximizing Small Spaces.
Index.