Organizing For Dummies, Mini Edition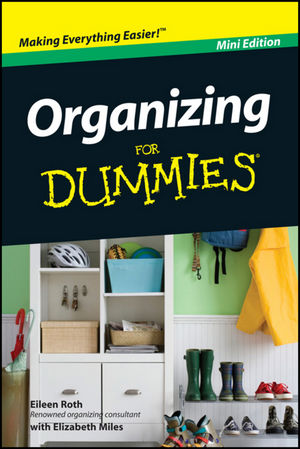 Organizing For Dummies, Mini Edition
ISBN: 978-1-118-04263-2
Dec 2010
64 pages
Product not available for purchase
Description
Clean up your act, get more done, and have more time for fun!
Packed with proven organizing systems and techniques, this guide shows you step-by-step how to break down organizing jobs into bite-size pieces, assemble the tools and supplies you'll need, and much more.
Open the book and find:
How to make time to get organized
Ways to personalize your organizing plan
Tips for using containers to put everything in place
Advice on how to train your mind to be organized
Introduction
.
Icons Used in This Book.
Where to Go from Here.
Chapter 1: Training Your Mind to Be Organized.
Your Organizing Plan .
Organizing your mission.
Your organizing goals.
Your organizing time.
Organizing your space.
Organizing for the people who work, live, or play here.
How You Do It.
Maintaining Organization.
Chapter 2: Assembling the Tools, Supplies, and Systems.
Organizers and Planners: Lists to Live By.
Putting Things in Their Place: Containers.
No-strain containers: Types, shapes, and sizes.
The Three Ds: Using containers as clutter busters.
The Six Organizing Secrets.
Designing any space with a layout.
Saving or tossing.
Everything in its P-L-A-C-E: Organizing space.
Clearing your desktop with R-E-M-O-V-E.
Responding to your mail with R-A-P-I-D.
Maximizing your time with P-L-A-N.
Chapter 3: Scheduling Skills for Maximum Productivity.
Going with the Flow: The Time Log.
Fixing Your Flow: The Busters.
Procrastination busters: Read this now.
Interruption busters: Phone calls and visitors.
Occupational overload: Just say "No".
Delegating: The four Ds.
It's How You Do It: Strategic Tasking.
Single tasking.
Group tasking.
Multitasking: Personal calls and waiting.
Pro Communications.
The phone: Incoming calls and messages.
Playing and taking messages.
Handling outgoing calls effectively.