Organizing Higher Education for Collaboration: A Guide for Campus Leaders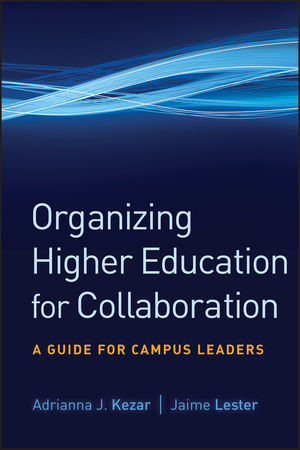 Organizing Higher Education for Collaboration: A Guide for Campus Leaders
ISBN: 978-0-470-17936-9
Feb 2009, Jossey-Bass
320 pages
Description
This book provides needed guidance and advice for how colleges and universities can reorganize to foster more collaborative work. In a time of declining resources, financial challenges, changing demographics, and staff overturn, institutions are looking for ways to maximize their resources and still be effective. This book is based on a study of campuses that have been successful in recreating their environments to support collaborative work.
Preface: Organizing Higher Education for Collaboration ix
The Authors xvii
Part One: Setting the Context for Moving Toward Collaboration: Understanding the Logic, Barriers, and Need to Reorganize
1 The Collaborative Imperative 3
2 The Challenges of Collaboration 21
3 Taking Advantage of Collaboration: Synergizing Successful Practices 41
Part Two: Strategies for Reorganizing Campuses
4 Mission, Vision, and Educational Philosophy 61
5 Values 85
6 Social Networks 99
7 Integrating Structures 123
8 Rewards 147
9 External Pressures 169
10 Learning 195
Part Three: Conclusion: Bringing the Strategies Together for Collective Action
11 Developing a Collaborative Context: Toward a Developmental Process 215
12 A Collective Responsibility: What Can Various Constituents Do to Support Collaboration on Campus? 237
Appendix A: Methodology 251
Appendix B: Resource Guide 257
References 261
Index 281
"…
Organizing Higher Education for Collaboration
could not have been placed on my reading list at a better time. Any college leader facing economic decision-making challenges will find that regardless of their current circumstances and where they find themselves on the collaboration continuum, the book's examples of four campuses with high levels of collaboration offer hope for all of us seeking to enhance student learning…
Organizing Higher Education for Collaboration
is thus a most timely of handbooks for change.
While the book is easy to read, the authors emphasize that the effort required for transformation to occur is daunting. Fortunately, Kezar and Lester offer an extraordinarily well-written, evidence-based lesson, replete with the hallmarks of success that will inspire anyone dedicated to student learning a substantive guide on how to deliver on the promise."
—NASPA Journal, 2009, Vol. 46, no. 3
"The authors reveal partnership possibilities, obstacles, and windfalls, and posit that genuine collaboration requires urgent action, new organizational structures, and the reallocation of campus resources. Their keen insights and practical advice are timely, given the economic uncertainty and dwindling resources that often breed competition instead of collaboration in American higher education."
—Peter M. Magolda, (The Review of Higher Education)