Organizing for the Spirit: Making the Details of Your Life Meaningful and Manageable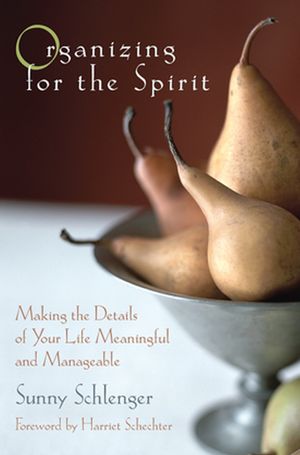 Organizing for the Spirit: Making the Details of Your Life Meaningful and Manageable
ISBN: 978-0-787-96759-8
Apr 2004, Jossey-Bass
160 pages
Description
Does that sound impossible?  In Organizing for the Spirit, organizing expert Sunny Schlenger demonstrates how the "stuff" of our lives—the objects that fill our homes and offices, as well as how we manage our time (whether we are productive or procrastinating)—offers clues to what we really value in life.  With simple and practical exercises, Sunny guides you through a step-by-step process to take stock of your life, clearly identify what really matters, and then use that clarity about values and priorities as a guide to organize both your physical environment and your time.  The result is a life of meaning and harmony—in the office, the studio, the home, and beyond.  Organizing for the Spirit is nothing less than a revolutionary guidebook for creating the life you were meant to live.
Foreword by Harriet Schechter.
Acknowledgments.
Introduction.
PART ONE: Discovering Your True Self.
Chapter One: Begin at the Beginning.
Chapter Two: Play Detective.
Part Two: Developing Your True Self.
Chapter Three: Be Who You Are.
Chapter Four: Be Where You Are.
Chapter Five: Enjoy Your Life.
Chapter Six: Give Back.
Conclusion: The End of One Story.
The Author.