Organometallics in Synthesis: A Manual, 2nd Edition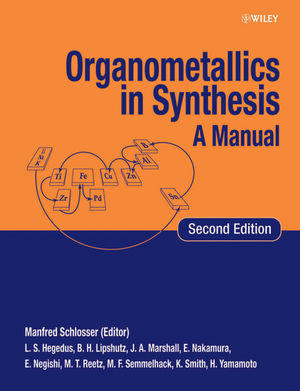 Organometallics in Synthesis: A Manual, 2nd Edition
ISBN: 978-1-118-75042-1 June 2013 1256 Pages
Description
This volume is not just another new edition, the text has increased by more than 50 percent, incorporating many new applications and protocols. All chapters on organo-alkali, -alkali earth, -titanium, -copper, -palladium, -boron, -aluminium and -tin chemistry have been completely revised and updated.
All contributions are written with practical laboratory work in mind, be it for undergraduate and graduate students learning the trade, or for the experienced industrial synthetic chemist expanding his/her repertoire with additional versatile reagents and catalysts.

This Second Edition presents:
A unique collection of the best and most versatile organometallics for synthesis
A judicially edited introduction to an important synthetic field written by world experts
A day-to-day reference for synthetic chemists
Theory and hands-on protocols for use in today's synthetic laboratories
Table of contents
List of Contributors.
Preface to the First Edition.
Preface to the Second Edition.
I. Organoalkali Chemistry (Manfred Schlosser).
II. Organotin Chemistry (James A. Marshall).
III. Organoboron Chemistry (Keith Smith).
IV. Organoaluminum Chemistry (Hisashi Yamamoto).
V. Organozinc Chemistry (Eiichi Nakamura).
VI. Organocopper Chemistry (Bruce H. Lipshutz).
VII. Organotitanium Chemistry (Manfred T. Reetz).
VIII. Organozirconium Chemistry (Ei-ichi Negishi).
IX. Organoiron and Organochromium Chemistry (Martin F. Semmelhack).
X. Organopalladium Chemistry (Louis S. Hegedus).
Index.
Reviews
"…can be used as a valuable introduction for researchers new to a particular area of research …. Also serves as an essential reference handbook ….". ((Applied Organometallic Chemistry, March 2005)