Origins of Increasing Returns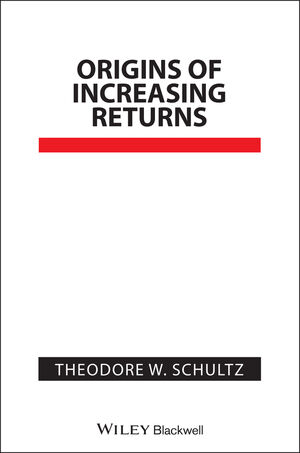 Origins of Increasing Returns
ISBN: 978-1-557-86319-5
Dec 1993, Wiley-Blackwell
328 pages
Description
Nobel Laureate Theodore W. Schultz has made highly important contributions to the fields of agriculture and natural resource economics, and to human capital theory.
This volume is mainly devoted to investments in specialized forms of capital, consisting in large part of human capital that produces increasing rates. The tensions between politics and economics are critically examined.
Acknowledgment.
Introduction.
Part I: Searching for Increasing Returns:.
1. On Investing in Specialized Human Capital to Attain Increasing returns.
2. On Economic History in Extending Economics.
3. The Value of the Ability to Deal with Disequilibria.
4. Increase in the Value of Human Time.
Part II: Less Dependency on Natural Resourses:.
5. The Declining Economic Importance of Agricultural Land.
6. Connections Between Natural Resources and Increase in Income.
7. Land in Economic Growth.
Part III: Augmenting Resources by Organizing Research:.
8. Value of Research and Endogenous Agricultural Technology.
9. Politics and Economics of Research.
10. Diatortions of Economic Research.
11. Economic Policy Research for Agriculture.
12. Entrepreneurship in Organized Research.
Part IV: Origins of Modern Agriculture:.
13. Modernizing Traditional Agriculture.
14. Economics, Agriculture, and the Political Economy.
15. Efficient Allocation of Brains in Modernizing World Agriculture.
16. Economics of Agricultural Productivity in Low Income countries.
17. The Changing Economy and the Family.
Part V: Government, Economics and Politics:.
18. Role of Government in Promoting Increases in Income.
19. Tensions between Economics and Politics.
20. Improving the Quality of Inputs.
21. Specialization and the Huamn Capital Approach to Economic Growth.
22. Self-Appraisal.
23. The Bottom Lines.
Index.
High quality author (Nobel Laureate 1979)
Although most of the material is previously published many of the articles are now unavailable or in limited circulation journals
Written in an accessible style on a topic of wide interest outside of economics.