Orthodontics at a Glance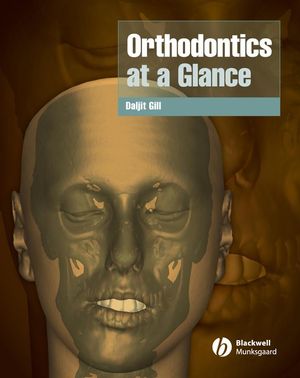 Orthodontics at a Glance
ISBN: 978-1-118-69770-2 May 2013 Wiley-Blackwell 112 Pages
Description
Orthodontics at a Glance
is part of the highly popular
at a Glance
series. It provides a concise and accessible introduction and revision aid. Following the familiar, easy-to-use
at a Glance
format, each topic is presented as a double-page spread with key facts accompanied by clear diagrams encapsulating essential knowledge.
Structured over four sections, Orthodontics at a Glance covers:


Craniofacial growth and development
Diagnosis and treatment planning
The management of malocclusion
Treatment techniques
Orthodontics at a Glance is the ideal companion for all students of dentistry, junior clinicians and those working towards orthodontic specialization. In addition the text will provide valuable insight for general dental practitioners wanting to update their orthodontic knowledge, orthodontic nurses, therapists and technicians.
Table of contents
1. INTRODUCTION.
CRANIOFACIAL GROWTH AND DEVELOPMENT.
2. An Introduction into Facial Growth and Development.
3. Growth and Development of the Neurocranium.
4. Growth and Development of the Nasomaxillary Complex.
5. Growth and Development of the Mandible.
6. Growth and Development of the Soft Tissues.
7. Development of the Dentition.
DIAGNOSIS AND TREATMENT PLANNING.
8. The Aetiology of Malocclusion I: Skeletal and Soft Tissue Factors.
9. The Aetiology of Malocclusion II: Locals Factors and Habits.
10. The Classification of Malocclusion.
11. Principles of Orthodontic Treatment Planning.
12. The Risks and Benefits of Orthodontic Treatment.
13. History.
14. Extra-oral Examination: Skeletal Pattern.
15. Extra-Oral Examination: Soft Tissues.
16. Intra-Oral Examination.
17. Smile Analysis.
18. Space Analysis.
19. Orthodontic Records.
20. Cephalometric Analysis.
THE MANAGEMENT OF MALOCCLUSION.
21. Class 1 Malocclusion.
22. Class 2, Division 1 Malocclusion.
23. Class 2, Division 2 Malocclusion.
24. Class 3 Malocclusion.
25. Asymmetries.
26. Open Bite Malocclusion.
27. Deep Bite Malocclusion.
28. Interceptive Orthodontics.
29. Poor Prognosis First Permanent Molars.
30. Crossbites.
31. Impacted Teeth.
32. Impacted Maxillary Canines.
33. Hypodontia.
34. Supernumaries.
TREATMENT TECHNIQUES.
35. The Biology of Tooth Movement.
36. Biomechanics of Tooth Movement.
37. Anchorage Management.
38. Removable Appliances.
39. Functional Appliances.
40. Fixed Appliances.
41. Stability and Retention.
42. Adult Orthodontics.
43. Orthognathic Surgery.
44. Cleft Lip and Palate
Features


Unique double-page format

Indispensable revision aid

Illustrated in full colour throughout