Osteoporosis For Dummies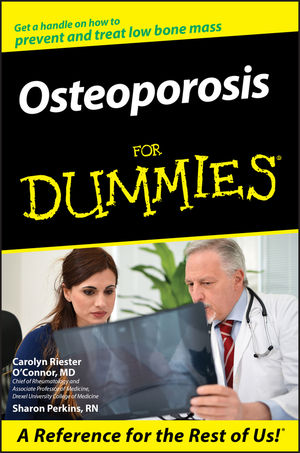 Osteoporosis For Dummies
ISBN: 978-0-764-57621-8 July 2005 316 Pages
Description
Facts and advice to help people understand and prevent osteoporosis
There are an estimated 55 million Americans over the age of 50 who have low bone mass. This easy-to-understand guide helps readers assess their risk and find a practical approach to the diagnosis, treatment, and prevention of osteoporosis. It covers bone density tests and a wide range of treatment options for osteoporosis-from hormone replacement therapy and acupuncture to calcium-rich foods, supplements, and exercise-and offers pointers on preventing broken hips and other common fractures.
Table of contents
Introduction.
Part I: Understanding Your Bones.
Chapter 1: Boning Up on Osteoporosis.
Chapter 2: Loving the Living Tissue Called Bone.
Chapter 3: Breaking Down the Risk Factors.
Chapter 4: Men and Kids Get Osteoporosis, Too.
Part II: Keeping Your Bones Healthy.
Chapter 5: Eating Right for Good Bones.
Chapter 6: Exercising for Strong Bones.
Part III: Diagnosing and Treating Osteoporosis.
Chapter 7: Facing the Consequences of Bones Gone Bad.
Chapter 8: Finding (and Paying For) a Doctor to Treat Osteoporosis.
Chapter 9: Testing Your Bones.
Chapter 10: Taking Prescription Drugs for Osteoporosis.
Chapter 11: Keeping Bones Strong with
Over-the-Counter Supplements.
Chapter 12: Managing Pain from Osteoporosis.
Chapter 13: Recovering from a Fracture When You Have Osteoporosis.
Chapter 14: Focusing on the Future of Osteoporosis.
Part IV: The Part of Tens.
Chapter 15: Ten Surprising Sources of Calcium.
Chapter 16: Ten Things You Need to Know about Bones.
Chapter 17: Ten Resources for Finding Out More about Osteoporosis.
Chapter 18: Top Ten Questions Dr. O'Connor's Patients Ask about Osteoporosis.
Chapter 19: Ten (Or So) Parenting Tips to Build Strong Bones.
Appendix: Reviewing Osteoporosis Programs State by State.
Glossary.
Index.