Other Objects of Desire: Collectors and Collecting Queerly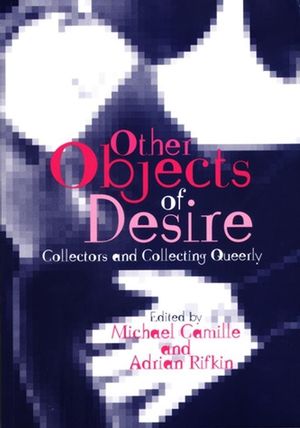 Other Objects of Desire: Collectors and Collecting Queerly
ISBN: 978-0-631-23361-9
Jan 2002, Wiley-Blackwell
168 pages
Description
Other Objects of Desire; Collectors and Collecting Queerly explores gay identities and identifications as they are communicated in and through art, and provides a critical approach to the study of collectors and collecting. From Jean de Berry to the internet addict, from Christina of Sweden to Andy Warhol, this collection of essays sets about questioning the terms and methodologies of gay or queer historical studies and the very nature and definition of collecting. Richly illustrated, scholarly and bold, this anthology respresents the work of both young and established Art Historians in trenchant, original and groundbreaking style.
1. 'For Our Devotion and Pleasure': The sexual objects of Jean, Duc de Berry: Michael Camille (University of Chicago).
2. Desiring Things: Rebecca Zorach (University of Pennsylvania).
3. The Virtue of a King and the Desire of a Woman? Mythological respresentations in the collection of Queen Christina: Veronica Biermann (Technische Universität, Munich).
4. Absent Love in Pleasure Houses. Frederick II of Prussia as art collector and patron: Christoph Martin Vogtherr (Stiftung Preußische Schlösser und Gärten Berlin-Brandenburg).
5. Homoerotic Art Collection from 1750-1920: Whitney Davis (Northwestern University).
6. Shopping the Leftovers: Warhol's collecting strategies in Raid the Icebox I: Deborah Bright (Rhode Island School of Design).
7. Mapplethorpe's Living Room: Photography and the furnishing of desire: Richard Meyer (University of Southern California).
8. Collecting men, or my next duchess: Adrian Rifkin (Middlesex University)
Original, cross-period and interdisciplinary study of collecting from a gay perspective, theoretically rich and multiplicitous, appealing to audiences in historical, literary, gender and aesthetic studies.