Our Lives As Torah: Finding God in Our Own Stories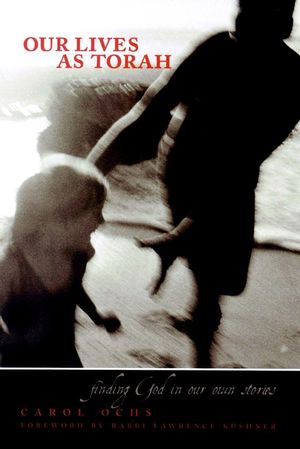 Our Lives As Torah: Finding God in Our Own Stories
ISBN: 978-0-787-95853-4 February 2002 Jossey-Bass 240 Pages
Description
In this powerful book, Carol Ochs shows us how to develop a personal theology by examining our life stories, learning to recognize God at work in them, and bringing them into conversation with Torah. Using timeless biblical texts as lenses to see the present, she helps us understand who we are and who God is for us by exploring the tightly interwoven basic elements of our lives--our love, suffering, work, bodies, prayer, community, and experiences of death.

Through the process of seeing our experiences in relation to Biblical stories, we begin to recognize our lives as part of the ongoing story of the Jewish people--as Torah. This insight allows us to see these experiences as meaningful, not accidental, and opens us to recognizing God's power in and through all that happens to us. Rather than a collection of random events, our lives are part of the Jewish people's ongoing adventure. Armed with our personally shaped theology, we can face this adventure of living in the vanguard of history with awareness and confidence.
Foreword by Rabbi Lawrence Kushner.

Searching for Meaning.

Forming Our Story.

Committing to Love.

Enduring Suffering.

Undertaking Our Work.

Claiming Our Bodies.

Engaging in Prayer.

Living in Community.

Confronting Death.

Encountering God.

Epilogue.

References.
"A most intriguing book! What is it? A work of theology? Personal reflection and childhood memories? Biblical commentary? Psychotherapeutic exploration of the unconscious, epic stories of love and loss, a self-help guide, poetry of the soul, a book of healing? Suddenly the mind penetrates to the core of this work and grasps its inner meaning: it is all of the above and more. This is a poignantly beautiful work of theological understanding." (Blu Greenberg, author of On Women and Judaism and How to Run a Traditional Jewish Household)

"A moving and inspiring book that should be read by anyone wishing to have a richer, deeper life. Ochs's approach to Jewish theology will be helpful to people of all faiths and to those in search of faith." (Professor Susannah Heschel, author of Abraham Geiger and the Jewish Jesus)

"Through her powerful stories, piercing intellect, and challenging commentary, [Ochs] enables each of us to discover God's presence in all that happens to us." (Rabbi Norman J. Cohen, provost, Hebrew Union College-Jewish Institute of Religion)

"With uncommon wisdom, Carol Ochs blends the discipline of theology with the art of story-telling to help us achieve the kind of self-awareness that can only enrich our lives." (Neil Gillman, professor of Jewish philosophy, The Jewish Theological Seminary)

"Show[s] us how to find ancient hints?a curved leaf here, a splash of water there?that help us shape a path that is ours alone, yet God's as well." (Rabbi Arthur Waskow, director of the Shalom Center and author of Godwrestling? Round 2 and Down-to-Earth Judaism)

"Anyone seeking to sanctify his or her life, in all of its detail, will be enriched and enlightened by this book." (Jacob J. Staub, vice president for academic affairs, Reconstructionist Rabbinical College)