Outlook 2003 Bible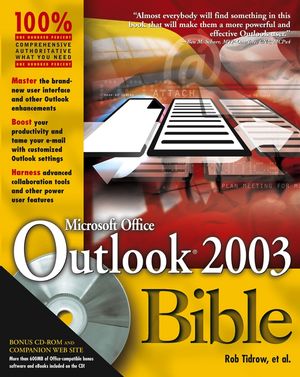 Outlook 2003 Bible
ISBN: 978-0-764-53973-2
Oct 2003
816 pages
Product not available for purchase
Description
Packed with step-by-step instructions for using e-mail, scheduling times and tasks, keeping track of people and managing items and folders.
* Readers discover out to use Outlook to its full potential and allow them to work more efficiently.
* Coverage goes beyond the basics of mastering e-mail to include using Outlook as a Personal Information Manager, integrating it with other Office applications, and discovering advanced message development.
* The companion CD-ROM includes sample code from the book and valuable third-party tools to help integrate Outlook.
Preface.
Acknowledgments.
Part I: Getting Started with Microsoft Outlook 2003.
Chapter 1: Outlook 2003 in a Nutshell.
Chapter 2: Installing Outlook 2003.
Chapter 3: A Guided Tour of Outlook 2003.
Chapter 4: Configuring Outlook 2003.
Part II: Mastering E-mail.
Chapter 5: E-mail Basics.
Chapter 6: Message Options and Attachments.
Chapter 7: Advanced E-mail Concepts.
Chapter 8: Processing Messages Automatically.
Part III: Information Manager.
Chapter 9: Managing Your Contacts.
Chapter 10: Managing Your Calendar.
Chapter 11: Scheduling Your Time.
Chapter 12: Tracking Tasks.
Chapter 13: Keeping Your Journal.
Chapter 14: Taking Notes.
Chapter 15: Organizing Information with Categories.
Chapter 16: Using Outlook Newsreader.
Part IV: Getting the Most Out of Outlook 2003.
Chapter 17: Customizing Outlook 2003.
Chapter 18: Using Folders Effectively.
Chapter 19: Integrating with Other Applications.
Chapter 20: Delegating Tasks to an Assistant.
Chapter 21: Using Windows SharePoint Services.
Part V: Managing Outlook Users.
Chapter 22: Supporting Roaming Users.
Chapter 23: Managing Security and Performance.
Chapter 24: Controlling Outlook (and Office) with Group and System Policies.
Chapter 25: Backing Up and Recovering User Data.
Chapter 26: Managing Exchange Server for Outlook Users.
Part VI: Basics of Microsoft Outlook 2003.
Chapter 27: Outlook 2003 Application Types.
Chapter 28: Creating a Simple Outlook Form.
Chapter 29: Controls in Outlook Forms.
Chapter 30: Utilizing Custom Fields.
Chapter 31: Adding Functionality to Outlook Forms.
Part VII: Advanced Messaging Development
Chapter 32: Working with Application Folders.
Chapter 33: Collaborative Messaging Basics.
Chapter 34: Using the Outlook 2003 Object Model.
Part VIII: Advanced Outlook Administration.
Chapter 35: Using Business Contact Manager.
Chapter 36: Using Outlook Web Access.
Chapter 37: Optimizing Outlook Installations.
Appendix: What's on the CD-ROM.
Index.
End-User License Agreement.
Chapter
Page
Details
Date
Print Run
573
Reference to Chapter 27 folder on CD
On page 573, you will find a reference to the Chapter 27 folder of the CD Rom. This is a reference from a previous edition of the book, and was not caught in the revision for the Outlook 2003 Bible.
10/7/04

---

583
Reference to Chapter 28 folder on CD (page 583)
This is a reference from a previous edition of the book, and was not caught in the revision for the Outlook 2003 Bible.
6/14/05

---