Over-the-Road Wireless For Dummies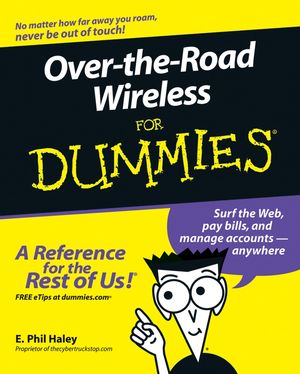 Over-the-Road Wireless For Dummies
ISBN: 978-0-471-78403-6
Aug 2006
364 pages
Description
Do you roam the road making a living, or are you enjoying the nomadic life of a retiree with a motor home? Either way, life goes on no matter where you're hanging your hat tonight. Bills still need to be paid, grandchildren grow up way too fast, and you've gotten pretty dependent on your e-mail. How do you stay connected to the rest of the world while you're on the road?

For a growing number of over-the-road drivers, business travelers, and RV enthusiasts, the answer is a wireless Internet connection. With a laptop and wireless access, you can
Pay bills, check accounts, and handle banking online
Send and receive e-mail
Surf the Web
Access your home PC
Make inexpensive phone calls with VoIP
Watch TV, download movies, and listen to satellite radio
""So,"" you say, ""I see people in movies popping open their laptops and getting online wherever they happen to be. It looks awfully easy—why do I need a book?"" Well, lots of things are easy once you know how. Over-the-Road Wireless For Dummies tells you how in plain English, so you can take advantage of all those cool opportunities safely and easily. You'll discover how to
Choose the best Wi-Fi access service for your needs and locate hotspots
Assess cellular data services and satellite access to make informed choices about service
Adapt your laptop or PDA for wireless, set up an external antenna, and install an external amplifier
Use your cell phone as a modem
Identify security threats, protect your data with strong passwords and encryption, and set up a personal firewall
Install and use Skype and make phone calls with your laptop
Make your truck or RV your office with online freight-finding services, a GPS receiver, a travel printer, and software to keep logs and expense records
Access streaming TV and radio on the road
With Over-the-Road Wireless For Dummies to help, you can send online birthday cards, watch video of the grandchildren, do your banking, pay bills, keep records, connect to your home PC, and even file your taxes, no matter how far away you roam!
Buy Both and Save 25%!
Original Price:$51.98
Purchased together:$38.99
save $12.99
Cannot be combined with any other offers.
Introduction.
Part I: The Wonderful World of Wireless Fidelity.
Chapter 1: Taking the Wi-Fi Highway.
Chapter 2: Selecting a Standard.
Chapter 3: Gearing Up.
Chapter 4: Putting Your Gear Together.
Part II: Surfing the Net Unplugged.
Chapter 5: Spotting Hotspots.
Chapter 6: Using Truck– and RV–Friendly Hotspots.
Part III: Bridging the Wireless Gap.
Chapter 7: Cellular Data Services: Can You Connect Me Now?
Chapter 8: Reattaching the Wired Tether.
Chapter 9: Sky-High Wi-Fi.
Part IV: Securing Your Information.
Chapter 10: Taking Common–Sense Steps to Security.
Chapter 11: Encrypting Data.
Chapter 12: Accessing Your Home PC Remotely.
Part V: Taking Care of Business.
Chapter 13: Talking Cheap with VoIP.
Chapter 14: Managing the Over-the-Road Office.
Part VI: Entertaining Electronics.
Chapter 15: Extra-Terrestrial Radio.
Chapter 16: Taking the Show on the Road.
Part VII: The Part of Tens.
Chapter 17: Ten Must–Have Travel Accessories.
Chapter 18: Ten Fantastic Free Applications.
Index.