Overcoming Anxiety For Dummies, 2nd Edition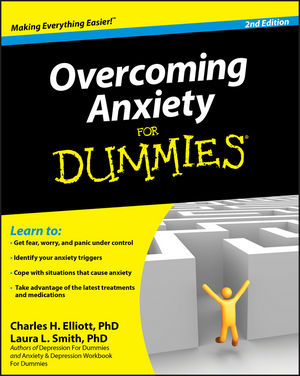 Overcoming Anxiety For Dummies, 2nd Edition
ISBN: 978-0-470-63708-1 April 2010 360 Pages
Description
Practical, proven ways to get fear, worry, and panic under control
Think you worry too much? You're not alone?over 40 million Americans suffer from some form of anxiety. Help is here in this friendly guide, which offers sound advice on identifying anxiety triggers through taking self-tests, improving your eating habits, relaxing, and finding support for you and your loved ones.
Now with 25% new and revised content, Overcoming Anxiety For Dummies, 2nd Edition explores all of the most common triggers for anxiety, recent developments in medications, newly emerging biologically oriented approaches for treating anxiety, and the most up-to-date advancements in psychotherapies.
Understand why you?re anxious and pinpoint your triggers
Get trusted advice on whether you can overcome anxiety on your own or seek professional help
Covers anxiety in teens, young adults, and veterans
The practical information in Overcoming Anxiety For Dummies, 2nd Edition is your first step toward getting your life back and winning the war against your worries!
Table of contents
Introduction.
Part I: Detecting and Exposing Anxiety.
Chapter 1: Analyzing and Attacking Anxiety.
Chapter 2: Examining Anxiety: What's Normal, What's Not.
Chapter 3: Sorting Through the Brain and Biology.
Chapter 4: Clearing the Roadblocks to Change.
Part II: Battling Anxiety.
Chapter 5: Becoming a Thought Detective.
Chapter 6: Watching Out for Worry Words.
Chapter 7: Busting Up Your Agitating Assumptions.
Chapter 8: Facing Fear One Step at a Time.
Chapter 9: Considering Medications and Other Physical Treatment Options.
Part III: Letting Go of the Battle.
Chapter 10: Looking at Lifestyle.
Chapter 11: Relaxation: The Five-Minute Solution.
Chapter 12: Creating Calm in Your Imagination.
Chapter 13: Mindful Acceptance.
Part IV: Zeroing in on Specific Worries.
Chapter 14: Facing a Career Crisis and Financial Woes.
Chapter 15: Keeping Steady When the World Is Shaking.
Chapter 16: Staying Healthy.
Chapter 17: Keeping Out of Danger.
Part V: Helping Others with Anxiety.
Chapter 18: When a Family Member or Friend Suffers from Anxiety.
Chapter 19: Recognizing Anxiety in Kids.
Chapter 20: Helping Kids Conquer Anxiety.
Part VI: The Part of Tens.
Chapter 21: Ten Ways to Stop Anxiety Quickly.
Chapter 22: Ten Ways to Deal with Relapse.
Chapter 23: Ten Signs That You Need Professional Help.
Appendix: Resources for You.
Index.