Overcoming Depression For Dummies, UK Edition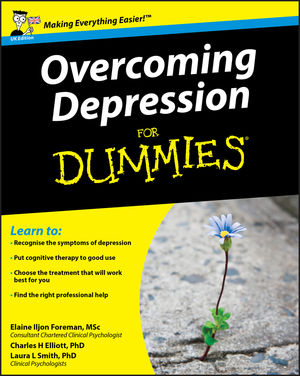 Overcoming Depression For Dummies, UK Edition
ISBN: 978-1-119-99752-8 January 2011 392 Pages
Download Product Flyer
Download Product Flyer
Download Product Flyer is to download PDF in new tab. This is a dummy description. Download Product Flyer is to download PDF in new tab. This is a dummy description. Download Product Flyer is to download PDF in new tab. This is a dummy description. Download Product Flyer is to download PDF in new tab. This is a dummy description.
Description
Up to 1 in 5 people in the UK suffer from diagnosable depression (bbc.co.uk) – that's approximately 12 million people. Depression takes multiple forms, including seasonal affective disorder, bipolar disorder, and postnatal depression. Research by the BBC claims that up to 75% of sufferers are not receiving any form of professional medication or therapy, which strongly suggests that self-help is often a preferred course of action.
Overcoming Depression For Dummies outlines practical methods for recognising and managing the symptoms of depression for those readers who might be too scared to go to their GP, who want to know more about the illness before they seek professional medical guidance, or for those who are just curious about depression and what it means.
Overcoming Depression For Dummies:
Is written by an expert team of clinical psychologists and provides step-by-step guidelines on proven therapeutic exercises and ways to implement positive psychology methods
Provides sound advice on nutrition, relaxation and support, to help make those vital first steps towards a happier life
Gives comprehensive information on the wide variety of prescription medication and complementary therapies available, including their effectiveness and side effects
Is aimed at people suffering from depression looking for straightforward, realistic advice and also loved ones and parents of those suffering from depression wanting to better understand the condition and find out how they can help.
Table of contents
Foreword.
Introduction.
Part I: Discovering Depression and Designing Defences.
Chapter 1: Understanding and Overcoming Depression.
Chapter 2: Detecting Depression.
Chapter 3: Breaching Barriers to Change.
Chapter 4: Finding Help for Depression.
Part II: Seeing Things More Clearly: Cognitive Therapy.
Chapter 5: Uncovering Underlying Thought Processes.
Chapter 6: Dispersing the Dark Clouds of Depressive Thinking.
Chapter 7: Discovering the Distorting Perceptions Behind Depression.
Chapter 8: Amending Your Memory.
Part III: Actively Combating Depression: Behaviour Therapy.
Chapter 9: Don't take it Lying Down!
Chapter 10: Exercising to Lift Depression.
Chapter 11: Rediscovering Healthy Pleasures.
Chapter 12: Handling Life's Headaches.
Part IV: Adjusting to Changing Relationships.
Chapter 13: Working through Loss, Grief, and Mourning.
Chapter 14: Revitalising Relationships.
Part V: Full Bodied Assault: Biological Therapies to Fight the Physical Foe.
Chapter 15: Maximising Medication Benefits.
Chapter 16: Help and Hope: Exploring Complementary Therapies for Depression.
Part VI: Life After Depression.
Chapter 17: Reducing the Risk of Relapse.
Chapter 18: Overcoming Depression with Mindfulness.
Chapter 19: Heading for Happiness Through Positive Psychology.
Part VII: The Part of Tens.
Chapter 20: Ten Ways of Improving Your Mood.
Chapter 21: Ten Ways of Helping a Child with Depression.
Chapter 22: Ten Ways of Helping a Friend or Partner with Depression.
Appendix: Resources for You.
Index.