Overcoming High-Tech Anxiety: Thriving in a Wired World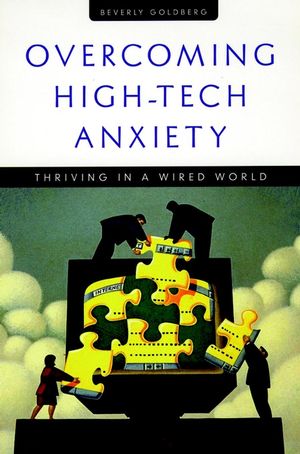 Overcoming High-Tech Anxiety: Thriving in a Wired World
ISBN: 978-0-787-91022-8 July 1999 Jossey-Bass 256 Pages
Description
For every person who cringes at the thought of yet another technological innovation, Beverly Goldberg offers this survival guide for succeeding in an increasingly wired world. She lays out six steps that will help the technically challenged accept the new state of constant change, come to grips with the way it's transformed the workplace, and master the skills needed to keep pace. She also delineates the rules for networking in the new connectivity and shows how to build trusting business relationships online. Readers will find in this guide useful tips on anticipating upcoming high-tech changes, support and guidance in dealing with technological change, and technical skills for keeping pace and finding success.
Table of contents
Preface.

Welcome to the New World.

A Framework for Overcoming High-Tech Anxiety.

Accepting the Constancy of Change.

Understanding Today's Workplace.

Gathering Knowledge from the Garden of Past Events.

Networking: Making Critical Connections.

Learning to Trust in Electronic Relationships.

The Art of Reinvention.

Looking Beyond Tomorrow.
Reviews
"Buckle your seat belt! The ride into our technological future willbe very bumpy. But we need not be anxious about it if we followBeverly Goldberg's advice. With her guidance it can be a rewardingand enjoyable ride after all."(Richard O. Mason, director, Carl H.Maguire Center for Ethics and Public Responsibility, SouthernMethodist University, Dallas)

"Beverly Goldberg's new book gives us information, historicalperspectives, analogies, and strategies that will help us conquerour fears about the overwhelming technology we confront in nearlyevery aspect of our lives. By following her advice, we can all besuccessful in the technical world of tomorrow."(Donna Zimmer,diversity practice leader, Shell Services International)

"A lot of people continue to shudder at the dawn of the InformationAge, but Beverly Goldberg more than tames the digital beast. Shepatiently puts a hand on the reader's shoulder and explains thatthere's little to fear from e-mail, corporate intranets, and theWorld Wide Web. More than that, she is the server of a can-dospirit, showing how the new media can be a boon to career andpersonal interests alike."(Tom Brown, president, ManagementGeneral)

"The author does an excellent job of giving readers ideas andunderstanding to cope with high-tech anxiety....well written, veryclear, smart, and articulate."(Marcia Ruben, principal, RubenConsulting Group)