Overload!: How Too Much Information is Hazardous to Your Organization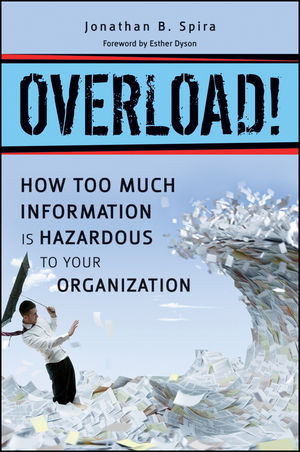 Overload!: How Too Much Information is Hazardous to Your Organization
ISBN: 978-0-470-87960-3
May 2011
288 pages
Description
Timely advice for getting a grip on information overload in the workplace
This groundbreaking book reveals how different kinds of information overload impact workers and businesses as a whole. It helps businesses get a grip on the financial and human costs of e-mail overload and interruptions and details how working in an information overloaded environment impacts employee productivity, efficiency, and morale.
Explains how information?often in the form of e-mail messages, reports, news, Web sites, RSS feeds, blogs, wikis, instant messages, text messages, Twitter, and video conferencing walls?bombards and dulls our senses
Explores what we do with information
Documents how we created more and more information over centuries
Reveals what all this information is doing
Timely and thought-provoking, Overload! addresses the reality of?and solutions for?a problem to which no one is immune.
Buy Both and Save 25%!
Original Price:$80.00
Purchased together:$60.00
save $20.00
Cannot be combined with any other offers.
Foreword
Fighting the Good Fight against Information Bloat.
Preface.
A Note to the Reader.
Acknowledgments.
Introduction.
The Way Work Was.
The Age of the Knowledge Worker.
Mark Rivington's Day.
A Global Economy.
Great Moments and Milestones in Information Overload History.
Part I How We Got Here.
Chapter 1 Information, Please?
Chapter 2 History of Information.
The Information Revolution and the Book.
E-readers Rising.
After the Book … Getting the Word Out.
The New News Cycle.
Chapter 3 Welcome to the Information Age.
Is Software Holding Us Back?
The Tools We Use.
Mid-Nineteenth-Century Tools: Groundwork Is Laid.
Twentieth-Century Tools: The Foundation for the Information Revolution.
Breakthroughs in Productivity.
Online Collaboration Makes Its Entrance.
Enter Charlie Chaplin.
Enter the Office Suite.
An Office for the Twenty-First Century.
The Problem with Documents.
The Collaborative Business Environment.
Chapter 4 What Is Information?
Quantifying Information.
Why Information Is Exploding.
How Information Is Going beyond Network and Storage Capabilities.
Structured versus Unstructured Information.
Data Mining to the Rescue?
Chapter 5 The Information Consumer.
Chapter 6 What Is Information Overload?
Meetings: Too Much of a Good Thing?
How Long Has This Been Going On?
More Information – Isn't that What We Wanted?
Information Overload and the Tragedy of the Commons.
The Ephemerization of Information.
Chapter 7 The Cost of Information Overload.
In Search of a Management Science.
Chapter 8 What Hath Information Overload Wrought?
Aspects of Information Overload.
Information Overload–Related Maladies.
The Compatibility Conundrum.
Chapter 9 The Two Freds.
Entitlement.
Mad about Information.
Work–Life Balance.
Chapter 10 Beep. Beep. Beep..
How Much Texting Is Too Much?
Sample Text Phraseology.
The Search for Whatever It Is We Are Looking For.
Chapter 11 Heading for a Nervous Breakdown.
Thinking for a Living.
The Roundtable.
How the Other Half Lives.
The New Busy Is Heading for a Nervous Breakdown.
Part II Where We Are and What We Can Do.
Chapter 12 Managing Work and Workers in the Twenty-First Century.
Chapter 13 Components of Information Overload.
E-mail Overload.
Unnecessary Interruptions and Recovery Time.
Need for Instant Gratification.
Everything Is Urgent – and Important.
Chapter 14 E-mail.
The Cost of Too Much E-mail.
E-mail and the Network Effect.
Reply to All.
Profanity in E-mail (Expletive Deleted).
A Day Without E-mail.
What to Do With 2.5 Billion E-mail Messages.
Deleting E-mail, Deleting Knowledge.
Chapter 15 The Googlification of Search.
Search and the Quest for the Perfect Dishwasher.
The Search Experience.
Does the King of the Watusis Drive an Automobile?
Chapter 16 Singletasking.
Attention.
Three Types of Attention.
Automaticity.
The Supertaskers Among Us.
Chapter 17 Intel's War.
Recent Information Overload Initiatives.
Quiet Time: A Time for Thought and Reflection.
No E-mail Day.
E-mail Service Level Agreement.
Chapter 18 Government Information Overload 203.
The Government's Information Problem.
Information Overload Turns Deadly.
A Culture of Secrecy.
The Consequences of Not Connecting the Dots.
Chapter 19 The Financial Crisis and Information Overload.
No Information Overload in 1907?
Information Overload in the Market.
Chapter 20 The Tech Industry and Information Overload.
The Industry Comes Together?
Information Overload Awareness Day.
What Software Companies Are Doing.
Chapter 21 What Works Better When.
Social Software Tools in the Enterprise.
What Should I Use When?
10 Tips to Help Lower Information Overload.
Epilogue 2084: Our Future?
References.
About the Author.
Overload Stories: The Web Site.
Index.
"Rich with helpful, pragmatic advice, Overload! provides details, tips, and strategies that the world's leading organizations, including IBM, Intel, Morgan Stanley, and the U.S. Air Force have employed." (LeadershipNow.com-Review)