Oxazoles: Synthesis, Reactions, and Spectroscopy, Part B, Volume 60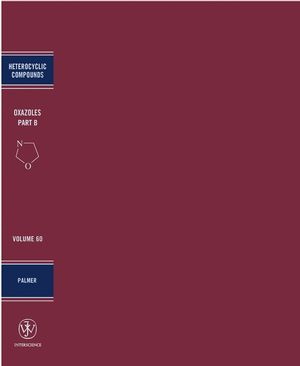 Oxazoles: Synthesis, Reactions, and Spectroscopy, Part B, Volume 60
ISBN: 978-0-471-64930-4
Apr 2004
720 pages
Description
Synthesis, Reactions, and Spectroscopy presents a comprehensive review of the literature from 1983 to the present covering oxazoles, mesoionic oxazoles, oxazolones, oxazolines, and chiral bisoxazolines. In-depth coverage includes synthesis, reactions, spectroscopic and physical properties for each class of compounds, as well as important developments related to the use of those compounds.
Contents - Part A.
Abbreviations.
5. 2(3H)-Oxazolones and 2(5H)-Oxazolones (T. Kunieda and H. Matsunaga).
6. 4(5H)-Oxazolones (D.C. Palmer).
7. 5(2H)-Oxazolones and 5(4H)-Oxazolones (C. Cativiela and M.D. Diaz-De-Villegas).
8. 2-Oxazolines (G.S.K. Wong and W. Wu).
9. Chiral Bis(oxazolines) (A. Ghosh, G. Bilcer, and S. Fidanze).
Author Index.
Subject Index.
"The text is well written and understandable...should be a valuable reference for organic chemists." (Journal of the American Chemical Society, Nov 17, 2004)