Oxazoles: Synthesis, Reactions, and Spectroscopy, Parts A and B, Volume 60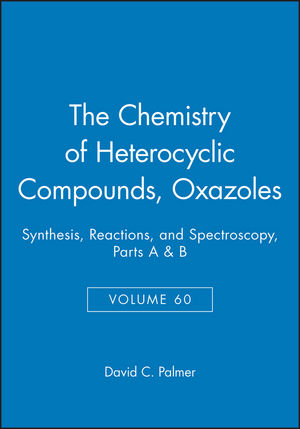 Oxazoles: Synthesis, Reactions, and Spectroscopy, Parts A and B, Volume 60
ISBN: 978-0-471-64989-2
Mar 2004
664 pages
Description
This volume in the Chemistry of Heterocyclic Compounds series presents a comprehensive review of the quinoxaline literature from 1975 to the present (2002), updating Volumes 5 and 35. It provides an alphabetical table of known simple quinoxalines, including new compounds discussed in this volume and their physical data, as well as the pyrazines from the original volumes. Biological activities, spectral or other physical studies, and other such materials appear at appropriate points in the text. The in-depth coverage includes synthesis, reactions, spectroscopic, and physical properties for each class of compounds.
Chemistry of Heterocyclic Compounds, Volume 61: Supplement II provides the most up-to-date summation of knowledge of the synthetic chemistry of quinoxalines.
Contents - Part A.
Abbreviations.
1. Synthesis and Reactions of Oxazoles (D.C. Palmer and S. Venkatraman).
2. Spectroscopic Properties of Oxazoles (D. Lowe).
3. Oxazole Diels–Alder Reactions (J.I. Levin and L.M. Laakso).
4. Mesoionic Oxazoles (G.W. Gribble).
Author Index.
Subject Index.
Contents - Part B.
Contents - Part A.
Abbreviations.
5. 2(3H)-Oxazolones and 2(5H)-Oxazolones (T. Kunieda and H. Matsunaga).
6. 4(5H)-Oxazolones (D.C. Palmer).
7. 5(2H)-Oxazolones and 5(4H)-Oxazolones (C. Cativiela and M.D. Diaz-De-Villegas).
8. 2-Oxazolines (G. S. K. Wong and W. Wu).
9. Chiral Bis(oxazolines) (A. Ghosh, G. Bilcer, and S. Fidanze).
Author Index.
Subject Index.