Ozonation of Water and Waste Water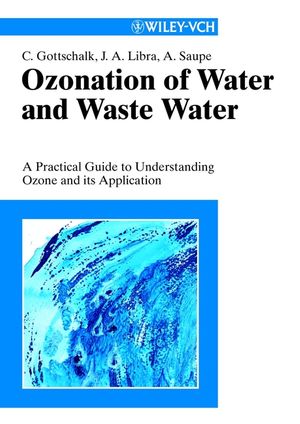 Ozonation of Water and Waste Water
ISBN: 978-3-527-61335-9
Jul 2008, Wiley-Blackwell
199 pages
Description
The ozonation of compounds in water is a complex process. The mechanisms are very complicated, the parameters are many, but the possibilities of developing cost-effective treatment schemes for drinking water and waste water are large.
Most books available today concentrate on either drinking water or waste water treatment, seldom dealing with both or explaining the essential differences. And only rare exceptions deal with the how-to of ozone experiments. This practical guide fills the gap.
It contains the cumulative knowledge on experimental design, execution, interpretation and application. Drawing on experience gained from hours spent on laboratory research with drinking and waste waters, literature study, intensive discussion with leading experts, perplexed reflection and deep thought, the book offers practical help to avoid common pitfalls and unnecessary work.
This book is aimed at professionals in industry and research currently using ozonation who want to optimize their system, as well as students beginning work with ozonation. It contains just enough information for beginners to start with, but goes rapidly to the detailed information that advanced readers need.

Introduction
PART A: OZONE IN OVERVIEW
Toxicology
Reaction Mechanism
Full Scale Applications
PART B: OZONE APPLIED
Experimental Design
Experimental Equipment and Analytical Methods
Mass Transfer
Reaction Kinetics
Modeling of Ozonation Processes
Application of Ozone in Combined Processes
Glossary
"The book is a source of detailed information for professionals who have to deal with ozonization and wish to optimize their methods." (International Journal of Hygiene and Environmental Health, Vol. 203, No. 3, March 2001)