PC Repair Bench Book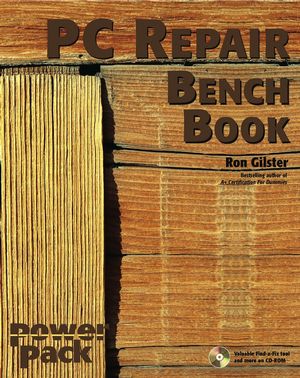 PC Repair Bench Book
ISBN: 978-0-764-52578-0
Mar 2003
792 pages
Product not available for purchase
Description
Your one-stop guide to
Understanding and repairing motherboards, processors, chipsets, BIOS, and system resources
Updating and optimizing memory and aging systems
Diagnosing common PC problems and performing routine maintenance
Installing and configuring system upgrades
Working safely with the electrical components of a PC
Troubleshooting peripherals, storage systems and devices, sight and sound systems, and more
Here's everything you need to know to fix or maintain a PC–and nothing you don't
If you're a PC technician, time is money. Bestselling author Ron Gilster trimmed every scrap of fat from this indispensable reference guide, packing it with clear, concise information that helps you do your job. Organized by hardware or component groups–motherboards, storage devices, printers, communications and networking, operating system software, and so on–it's liberally illustrated for faster comprehension. This is the one book you can't afford not to have on your repair bench.
Preface.
Part I: The Motherboard and Its Components.
Chapter 1: Mastering the Motherboard.
Chapter 2: Processors.
Chapter 3: Chipsets and Controllers.
Chapter 4: Booting and the BIOS.
Chapter 5: Configuring System Resources.
Chapter 6: Memory.
Chapter 7: Applying Cache Memory.
Part II: The System Case and Power Supply.
Chapter 8: The System Case.
Chapter 9: Powering Up the PC.
Part III: Storage Devices.
Chapter 10: Working with Hard Disks.
Chapter 11: Hard Disk Interfaces.
Chapter 12: Floppy Disks and Removable Storage Devices.
Chapter 13: CD-ROM and DVD.
Part IV: Sight and Sound Systems.
Chapter 14: Video Systems.
Chapter 15: Monitors and Displays.
Chapter 16: Audio and Image Capture Devices.
Part V: Printers.
Chapter 17: Impact and Inkjet Printers.
Chapter 18: Laser Printers.
Part VI: Keyboards and Pointing Devices.
Chapter 19: Keyboards.
Chapter 20: Mice and Other Pointing Devices.
Part VII: Communications and Networking.
Chapter 21: Dialup Networking.
Chapter 22: Networking the PC.
Part VIII: Configuring the PC.
Chapter 23: Expansion Cards.
Chapter 24: Ports and Connectors.
Part IX: PC Operating Systems.
Chapter 25: The Windows Operating System.
Chapter 26: Unix and Linux Operating Systems.
Part X: Maintaining a PC.
Chapter 27: Preventive Care.
Chapter 28: Optimizing the PC.
Part XI: Appendix.
Appendix A: About the CD.
Index.
End-User License Agreement.
Bonus Appendix A: Troubleshooting PC Problems.
Bonus Appendix B: The PC Technician's Toolkit.
Bonus Appendix C: Glossary.