PC Upgrade and Repair Bible, Desktop Edition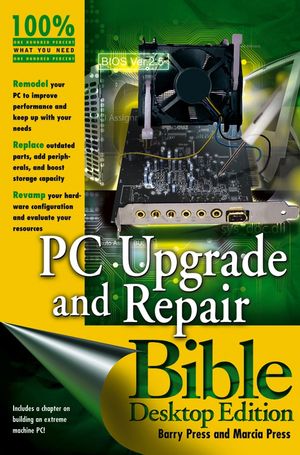 PC Upgrade and Repair Bible, Desktop Edition
ISBN: 978-0-764-57317-0
May 2004
500 pages
Product not available for purchase
Description
Updated and revised with eighty percent new material, this book is 100 percent of what readers need to upgrade, fix, or troubleshoot PCs
Sixty-five percent of U.S. households own a PC; this book caters to the do-it-yourselfers in these households, both novices and tech hobbyists alike, who are looking for an approachable reference
A one-stop reference for topics such as video, CD, and DVD; multimedia; storage; communications (network and Internet); peripherals; and integrating with laptops and handhelds
Concludes with a step-by-step tutorial on building an ""extreme"" machine that can handle the most demanding multimedia or gaming applications
Written by Marcia and Barry Press, authors of PC Toys (076454229X)
Preface.
Acknowledgments.
Part I: Introduction.
Chapter 1: Getting Ready.
Chapter 2: Why Isn't the Same Computer Right for Everyone?
Chapter 3: PC Overview.
Part II: Processors and Motherboards.
Chapter 4: Processors, Cache, and Memory.
Chapter 5: Buses, Chipsets, and Motherboards.
Part III: Video.
Chapter 6: Video.
Chapter 7: Monitors and Flat Panels.
Part IV: Storage.
Chapter 8: Hard Disks and Disk Arrays.
Chapter 9: CD and DVD.
Chapter 10: Removable Storage.
Part V: Networks and Communications.
Chapter 11: Modems.
Chapter 12: Wired and Wireless Networking.
Chapter 13: Hubs, Switches, Routers, and Firewalls.
Chapter 14: Configuring a Windows Network.
Chapter 15: Internet Services, Antivirus, and Anti-Spam.
Part VI: Multimedia and Peripherals.
Chapter 16: Sound Cards, Speakers, Microphones, and MP3 Players.
Chapter 17: Digital Cameras, Video Capture, and DVDs.
Chapter 18: Keyboards and Game Controllers.
Chapter 19: Mice, Trackballs, and Tablets.
Chapter 20: Printers, Scanners, and All-in-One Units.
Part VII: Integration.
Chapter 21: Cases, Cooling, and Power.
Chapter 22: Laptops and Handheld Computers.
Chapter 23: You're Going to Put That Where?
Chapter 24: Diagnosis and Repair.
Chapter 25: Building an Extreme Machine.
Glossary.
Index.