PHR / SPHR Professional in Human Resources Total Test Prep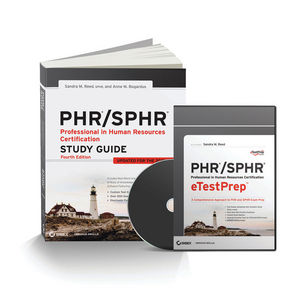 PHR / SPHR Professional in Human Resources Total Test Prep
ISBN: 978-1-118-63931-3
Mar 2013
672 pages
Product not available for purchase
Description
Includes the bestselling PHR/SPHR Study Guide (ISBN: 978-1118289174) plus the new Sybex PHR/SPHR eTestPrep practice testing software. This study package goes beyond what typical practice test products provide. Mapping to the 2012 PHR/SPHR Body of Knowledge, this comprehensive resource is aimed at HR professionals seeking to validate their skills and knowledge, and strengthen their resume.
PHR/SHPR eTestPrep testing software with hundreds of practice questions, including 300 brand-new questions not included in the Study Guide
Additional study tools designed to reinforce your understanding of key functional areas
Access to bonus study materials and additional PDFs where you can get more information on specific topics
With the number of HR professionals having earned their PHR and SPHR certifications on a steady rise, this comprehensive book-and-software combination is essential test preparation.


SYSTEM REQUIREMENTS:
CPU: 1000 megahertz (MHz) processor or higher
RAM: minimum of 512 MB
FREE DISK SPACE: 250 MB
DISPLAY: 1024x768, 16 bit color depth or higher resolution monitor
CD-ROM compatible drive 
INTERNET CONNECTION:
Only required for download and license activation 
OPERATING SYSTEM:
Windows XP SP3, Windows Vista, or Windows 7 (32 or 64 bit)
Adobe Flash Player: Version 7 or later 
The license is active for 36 months from time of activation. 
Chapter
Page
Details
Date
Print Run
Correction to software content: Answer to Question ID# PHR-Q4057
In the PHR test in the eTestPrep software, the answer returned as correct for QID# PHR-4057 "Job fulfillment from working with a talented peer group is an example of which of the following types of compensation?" is B, Intrinsic. The correct answer is C, Extrinsic.
5/15/13

---