PIPEs: A Guide to Private Investments in Public Equity, 2nd, Revised and Updated Edition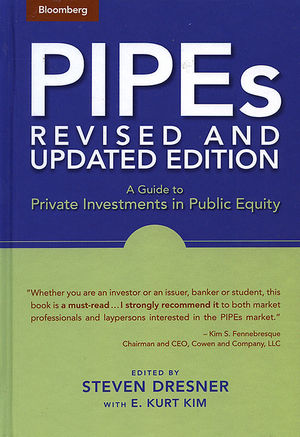 PIPEs: A Guide to Private Investments in Public Equity, 2nd, Revised and Updated Edition
ISBN: 978-0-470-88510-9
May 2010
291 pages
Description
Private investments in public equity (PIPEs) offer a practical financing alternative for companies seeking capital and a unique asset for investors. For practitioners who know how to identify and execute transactions, PIPEs present a growing opportunity.

This revised and updated guide presents the views, voices, and invaluable expertise of leading practitioners from all specialties in the field. The book is divided into three parts: "The Business of PIPEs," which provides a historical backdrop and overview; "Regulatory Landscape and Structural Alternatives," which details the legal framework and transaction structures; and "Deal Flow," which offers the investor's perspective on negotiating deals.

With detailed discussions, ranging from the origins of the marketplace and deal structures to legal considerations and due diligence, and from finding new opportunities to trading strategies, this book provides a clear window to the inner workings of this active area of the small-cap market. Investors, financial analysts, investment bankers, corporate and securities attorneys, and executives of public companies will find substantial value in the pages of this book.
About the Editors.
About the Contributors.
Acknowledgments.
Introduction (Steven Dresner).
Part 1. The Business of PIPEs.
1. Overview: An Emerging Market (Richard E. Gormley).
2. The Marketplace: A Statistical Summary (E. Kurt Kim).
3. A Historical Perspective: The Bubble, Converts, and the Birth of Structured PIPEs (James F. O'Brien Jr.).
4. The Players: Issues, Investors, Agents and Regulators (Steven Dresner and Brett Goetschius).
Part 2. Regulatory Landscape and Structural Alternatives.
5. The Law: Legand and Regulatory Framework (James R. Tanenbaum and Anna T. Pinedo).
6. Fundamental PIPEs: Typical Structures and Transactions (Eleazer Klein).
7. Registered PIPEs: Registered Direct Transactions (Joseph Smith).
8. Litigation Strategies: Manageing Litigation Risk and Addressing Other Investor Concerns (Perrie Weiner and Edward Totino).
Part 3. Deal Flow.
9. managing Risk: Securities Structures, Trading, and Deal Documentation (Steve Winters).
10. Due Deligence and Valuation Policy: Caveat Emptor Squared (Stewart Flink).
11. Reverse Mergers and PIPEs: The New Small-Cap IPO (David Feldman).
Afterword.
Glossary.
Index.