PRINCE2 Study Guide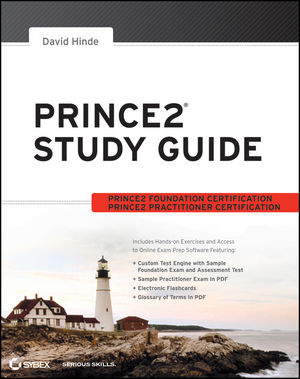 PRINCE2 Study Guide
ISBN: 978-1-119-97097-2 March 2012 528 Pages
Description
Everything you need to be fully prepared to take the PRINCE2 Foundation and Practitioner exam
As an internationally recognized certification which focuses on the Foundation and Practitioner levels along with being recommended by the Project Management Institute, the PRINCE2 accreditation gives a bolster to any resume.
The author, David Hinde, has trained hundreds of individuals from many different backgrounds to prepare for the PRINCE2 exams. The book provides explanations of all parts of the PRINCE2 approach, lots of practical examples, and a whole range of mock examination questions to test your knowledge.
Explains all the PRINCE2 themes, processes, principles, roles and management products for the very latest version of PRINCE2 (PRINCE2 2009 Edition)
Features full coverage of all Foundation and Practitioner level exam objectives
Presents real–world scenarios, showing how the method is used in business and the public sector
Includes challenging review questions and electronic flashcards to sharpen your knowledge
Covers tips and techniques for tackling the PRINCE2 accreditation examinations and shows you how and where to take the exams
Incorporates over 300 sample Foundation-level and over 100 sample Practitioner-level questions, with answers and full explanations
Contains a glossary of all PRINCE2 terminology and a quick reference to all the PRINCE2 management products
Gives a web link to a set of on-line tools with more bonus exams
PRINCE2 Study Guide covers all the necessary topics you need to know in order to confidently take the PRINCE2 Foundation and Practitioner exams.
Table of contents
Introduction xvii
Assessment Test xlvii
Chapter 1 Overview of PRINCE2 1
Chapter 2 Starting a Project Successfully with PRINCE2 39
Chapter 3 Organization Theme 75
Chapter 4 Business Case Theme 103
Chapter 5 Plans Theme 127
Chapter 6 Quality Theme 159
Chapter 7 Risk Theme 197
Chapter 8 Change Theme 225
Chapter 9 Progress Theme 253
Chapter 10 Managing the Middle of a Project Successfully with PRINCE2 289
Chapter 11 Managing the End of a Project Successfully with PRINCE2 329
Chapter 12 Tailoring PRINCE2 to the Project Environment 347
Appendix A Answers to Review Questions 363
Appendix B Management Products in PRINCE2 395
Appendix C Passing the Accreditation Exams 403
Appendix D Sample Foundation Examinations 425
Appendix E About the Additional Study Tools 455
Index 459
Downloads
Click the "Register or Login Now" link below to register or login

Thank you for your interest in this Sybex product. This downloadable product includes the practice exams, flashcards and glossary of terms. To access the free downloadable files, please login or register by clicking the following URL. You'll proceed to the login/registration screen.
Register or Login Now
After you have registered and downloaded your Sybex product's zip file, follow these steps:

Unzip the downloaded file on your Windows computer.
** Note that the interface will not function properly unless you first unzip the file.
Click on start.exe to open the interface.
Read through the license agreement, and then click the Accept button to browse the contents.
If you experience trouble with the start.exe file or interface, please refer to the product ReadMe.txt file.