PSpice for Linear Circuits (uses PSpice version 15.7), 2nd Edition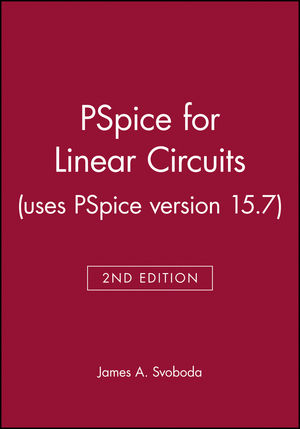 PSpice for Linear Circuits (uses PSpice version 15.7), 2nd Edition
ISBN: 978-0-471-78146-2
Jun 2007
154 pages
Description
PSpice and Orcad Capture are computer programs that simulate electric circuits. PSpice for Linear Circuits, Second Edition provides an introduction to these programs and describes ways in which they can be profitably used in an introductory course on electric circuits. This manual is written specifically for beginning students, and gives step-by-step instructions for using PSpice and Orcad Capture to analyze ac and dc circuits, circuits in the time domain to determine the complete response, and circuits in the frequency domain to determine the frequency response.

Each copy of the manual contains a CD with the Orcad 15.7 Demo Software that includes PSpice, Capture, Capture CIS and Layout.
1. Getting Started with PSpice.
.1 Using PSpice.
1.2 PSpice Notation.
1.3 Summary.
2. Analysis of DC Circuits.
2.1 DC Circuits Containing Dependent Sources.
2.2 Mesh and Node Equations.
2.3 Comparing DC Circuits.
2.4 Thevenin Equivalent Circuits.
2.5 Capacitors and Inductors in DC Circuits.
2.6 Summary.
3. Variable DC Circuits.
3.1 DC Sweep.
3.2 Global Parameters.
3.3 Summary.
4. Time Domain Analysis.
4.1 The Response of a RC Circuit to a Pulse Input.
4.2 Switches.
4.3 Piecewise Linear Inputs.
4.4 AC Circuits in the Time Domain.
4.5 Summary.
5. Analysis of AC Circuits.
5.1 Analysis AC Circuits.
5.2 Coupled Coils.
5.3 Ideal Transformers.
5.4 Summary.
6. Frequency Response.
6.1 Frequency Response Plots,
6.2 Summary.
7. Fourier Series
Appendix.
The 2nd edition uses the most recent version of the Orcad Demo Software, version 10.5.
This manual provides step-by-step instruction for using PSpice and Orcad Capture—
analyze dc circuits, including variable dc circuits

analyze ac circuits

analyze circuits in the time domain to determine the complete response

analyze circuits in the frequency domain to determine the frequency response
A formal problem solving procedure is described in Chapter 1 and used throughout the manual
Provides consistent problem-solving framework for beginning EE students

Emphasizes importance of verifying correctness of simulations so students learn appropriate use of technology
Every example in this manual examines the computer output
Students learn critical skills to determine if output is correct or not

Illustrates a variety of useful techniques for checking answers