Pacing Options in the Adult Patient with Congenital Heart Disease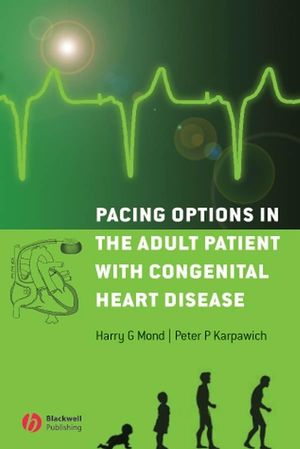 Pacing Options in the Adult Patient with Congenital Heart Disease
ISBN: 978-0-470-75034-6
Apr 2008, Wiley-Blackwell
152 pages
Description
Finally, a pacing book dedicated to the adult patient with CHD. Drawing on their vast experience, Drs. Mond and Karpawich join forces to show you what to do, how to do it, and what to avoid.





Building on more than 60 years of device therapy Pacing Options in the Adult Patient with Congenital Heart Disease leads you through the many congenital heart defects now seen in adults. This essential resource:






Describes the various anatomical characteristics of repaired and non-repaired congenital heart defects and compares these with the normal anatomy, allowing you to easily identify the differences

Guides you through the implant techniques, highlighting the specific problems that might be encountered and providing proven techniques to overcome technically difficult anatomical variations in patients with and without congenital heart disease
Throughout the book, schematic diagrams of the diverse anatomy of the congenital heart support the textual descriptions, and x-rays and fluoroscopic images illustrate the physiology and maximize understanding.
Part 1 Tricks of the trade.
1 Know the anatomy.
2 Transvenous pacemaker implantation.
3 The pulse generator or ICD pocket.
4 Epicardial or epimyocardial pacing.
5 Problems with right ventricular apical pacing.
6 What type of lead fixation device do I use?.
7 Consider steerable stylets or catheters.
8 Safety in numbers – the belt and braces technique.
9 Do old leads need extraction?.
10 Stenosed venous channels.
11 Use of the coronary venous system.
12 Consider growth in teenagers.
Part 2 Patients, principles and problems.
Section A No previous cardiac surgery: pacemaker/ICD required.
13 Congenital atrioventricular block.
14 Congenitally corrected L-transposition of the great vessels.
15 Congenital long QT syndromes.
Section B No previous cardiac surgery: pacemaker/ICD a challenge.
16 Atrial septal defects and patent foramen ovale.
17 Persistent left superior vena cava.
18 Dextrocardia.
19 Ebstein's anomaly.
Section C Previous corrective or palliative cardiac surgery.
20 D-Transposition of the great vessels.
21 Septal defects including tetralogy of fallot.
22 Repaired Ebstein's anomaly.
Section D No venous access to ventricle.
23 Univentricular heart.
Concluding remarks.
References.
Index
"The book will be of interest to most device implanters as it does offer some useful tips that can be applied to conventional adult practice, in addition to explaining how to implant in patients with congenital heart disease." (
Cardiology News
, October - November 2007)
"This is a concise guide…that uses an easy to navigate format. It makes excellent use of tables, drawings, and clinical vignettes…" (Doody's Review Service)

"This is a concise guide to implantation of devices in adult congenital heart disease patients that uses an easy to navigate format. It makes excellent use of tables, drawings, and clinical vignettes to illustrate obstacles that may be encountered. It serves as a review of relevant anatomy, identifying the most likely pitfalls in specific scenarios. The book also provides contemporary literature references." (Ramy A Badawi, MBBS MA MRCP, @Doody's Review Service)
The
first pacing book dedicated to the adult patient with CHD


Decades of device therapy in one accessible resource

This book is the must-have resource covering: how the anatomy differs; what surgical procedures were performed; the potential pitfalls and problems during device implantation