Packaging for Nonthermal Processing of Food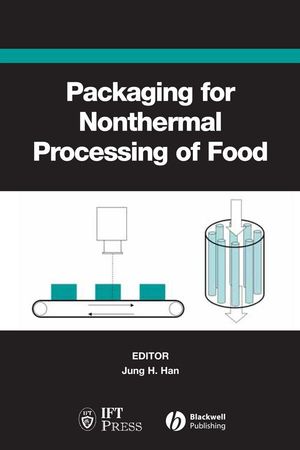 Packaging for Nonthermal Processing of Food
ISBN: 978-0-470-27647-1
Feb 2008, Wiley-Blackwell
248 pages
Description
A number of novel thermal and nonthermal processing methods are in active research and development in industry, academic and government laboratories. A key step that needs to be addressed is how to best package commodities processed by high pressure, pulsed electric fields, UV, irradiation, microwave or radio frequency heating, bioactive coating/packaging, or the treatment with probiotics to best preserve the benefits of improved product quality imparted by these emerging preservation technologies.

Packaging for Nonthermal Processing of Food reviews typical nonthermal processes, the characteristics of food products after nonthermal treatments, and packaging parameters to preserve the quality and enhance the food safety of the products. In addition, the critical role of information carried by packaging materials to make a new product produced by a novel process attractive to consumers is discussed. Packaging for Nonthermal Processing of Food offers many benefits to industry for providing the practical information on the relationship between new processes and packaging materials, to academia for constructing the fundamental knowledge, and to regulatory agencies for acquiring deeper understanding on the packaging requirements for new processes.
Contributors ix
Preface xi
Chapter 1. Packaging for Nonthermally Processed Foods 3
Jung H. Han
Chapter 2. The Role of Active Packaging in Nonthermal Processing Systems 17
Aaron L. Brody
Chapter 3. Edible Coatings Containing Bioactive Antimicrobial Agents 29
Seacheol Min and John M. Krochta
Chapter 4. Bio-MAP: Modified-Atmosphere Packaging with Biological Control for Shelf-Life Extension 53
James T. C. Yuan
Chapter 5. Packaging for High-Pressure Processing, Irradiation, and Pulsed Electric Field Processing 67
Seacheol Min and Q. Howard Zhang
Chapter 6. Packaging for Foods Treated by Ionizing Radiation 87
Vanee Komolprasert
Chapter 7. Radio Frequency Identification Systems for Packaged Foods 117
Jung H. Han, Arnold W. Hydamaka, and Yicheng Zong
Chapter 8. Consumer Choice: Responses to New Packaging Technologies 139
Kevin C. Spencer and Joan C. Junkus
Chapter 9. European Standpoint to Active Packaging—Legislation, Authorization, and Compliance Testing 187
W. D. van Dongen, A. R. de Jong, and M. A. H. Rijk
Chapter 10. Packaging for Nonthermal Food Processing: Future 213
Jung H. Han
Index 227
"Han introduces the book and some of the topics in the first chapter and gives a good overview of the topics covered...this book is well presented and can lead the reader into some interesting topics for further investigation or just provide some background to a wide range of topics in the areas of packaging of nonthermal processed foods"
FS&T Vol 21, Issue 3


Novel thermal and nonthermal processing methods

Discusses benefits for providing the practical information on the relationship between new processes and packaging materials

Addresses how to best package commodities produced using a variation of processes to best preserve the benefits of product quality