Paediatric Orthotics: Orthotic management of children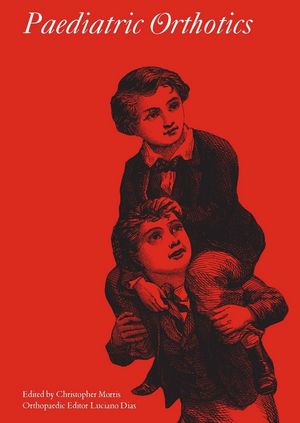 Paediatric Orthotics: Orthotic management of children
ISBN: 978-1-898-68351-3 April 2007 248 Pages
Description
Clinics in Developmental Medicine No. 175
Orthoses are externally applied medical devices used to prevent or correct musculoskeletal deformities and improve physical functioning; these devices are typically custom made. This is one of very few books on the subject of orthotics published in recent years and the only book focusing solely on the orthotic management of children.

The first part of the book considers the principles that are fundamental to orthotic management, including a review of biomechanics, consideration of clinical assessment methods, and the materials and fabrication techniques used to make orthoses. The second part of the book comprises several condition-specific chapters that consider the appropariate orthotic management of the more common conditions in childhood in the context of multidisciplinary care. The chapters include neuromuscular conditions such as cerebral palsy, myelomeningocoele and muscular dystrophy; and also congenital deformities and conditions arising in childhood. One chapter considers orthotic intervention for idiopathic scoliosis and another considers the sometimes controversial issue of protective and corrective headwear. Whist by no means exhaustive, Paediatric Orthotics provides both a basic grounding in the subject together with practical guidance to help clinical practice.

Paediatric Orthotics will be of use, not only to orthotists but also to physical and occupational therapists, paediatricians, paediatric orthopaedic surgeons and physiatrists. The book is also essential reading for all students and clinicians involved in the physical management of children with disabilities.
AUTHORS' APPOINTMENTS.
1. INTRODUCTION, Christopher Morris.
2. BIOMECHANICAL PRINCIPLES, Christopher Morris.
3. ASSESSMENT, Christopher Morris, Nicholas Gryfakis, Michael El-Shammaa and Luciano Dias.
4. MATERIALS, COMPONENTS AND FABRICATION, Christopher Morris.
5. UPPER-LIMB ORTHOSES, Nicole Parent-Weiss.
6. LOWER-LIMB ORTHOSES, Christopher Morris.
7. CONGENITAL DEFORMITIES, Christopher Morris and Luciano Dias.
8. CONDITIONS ARISING IN CHILDHOOD, Christopher Morris and Luciano Dias.
9. CEREBRAL PALSY, Christopher Morris.
10. MUSCULAR DYSTROPHIES, SPINAL MUSCULAR ATROPHIES AND PERIPHERAL NEUROPATHIES, Nicola Thompson, Steve Porter and Christopher Morris.
11. MYELOMENINGOCOELE, Brigid Driscoll, Robert Novak and Luciano Dias.
12. IDIOPATHIC SCOLIOSIS, Paul Horwood.
13. PROTECTIVE AND CORRECTIVE HEADWEAR, Sheila Kellner and Trevor da Silva
● Written by an international team, Paediatric Orthotics is the only book focusing solely on the orthotic management of children and young people
● Considers the fundamental principles of orthotic management, including a review of biomechanics, consideration of clinical assessment methods, and the materials and fabrication techniques used to make orthoses
● Includes condition-specific chapters that consider the appropariate orthotic management of the more common conditions in childhood in the context of multidisciplinary care
● Provides both a basic grounding in the subject together with practical guidance to help clinical practice
● Includes numerous photos