Paediatrics and Child Health, 3rd Edition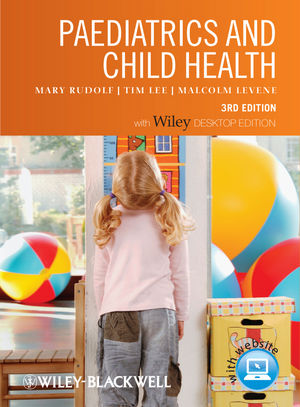 Paediatrics and Child Health, 3rd Edition
ISBN: 978-1-118-29366-9 November 2011 Wiley-Blackwell 496 Pages
Download Product Flyer
Download Product Flyer
Download Product Flyer is to download PDF in new tab. This is a dummy description. Download Product Flyer is to download PDF in new tab. This is a dummy description. Download Product Flyer is to download PDF in new tab. This is a dummy description. Download Product Flyer is to download PDF in new tab. This is a dummy description.
Description
Paediatrics and Child Health
is the perfect textbook to prepare you for clinical practice - providing a comprehensive and practical guide to paediatric disorders as they present to the practitioner, and grouped together by system for easy navigation. 
From birth through to adolescence, the emphasis is on common and important paediatric problems. This is the only book that takes each symptom and walks you through history taking and physical examination step-by-step. Each section concludes with characteristics and features of the symptoms covered, allowing you to reach differential diagnoses in a logical, highly-structured way. A unique feature are the videos, accessible via your desktop edition, that accompany the book. Designed to enhance your clinical skills and help you in OSCEs, they show you how to examine children correctly.
This third edition has been substantially updated throughout and includes new chapters on cardiac conditions and social paediatrics. Beautifully presented, with many new illustrations and photographs, favourite features such as 'at a glance' and 'clues to the diagnosis' boxes are back, with new 'red flag' boxes to signal the crucial information you need. The self-assessment section allows you to check your knowledge and prepare for paediatrics exams.
Paediatrics and Child Health is the perfect resource for a course on paediatrics, and is accompanied by a FREE enhanced Wiley Desktop Edition - the interactive digital version of the book with downloadable text and images, highlighting and note-taking facilities, book-marking, cross-referencing, in-text searching, and linking to references and glossary terms.
Paediatrics and Child Health is also supported by fully downloadable figures and illustrations at www.wiley.com/go/rudolf/paediatrics.
Table of contents
Preface.
How to use this book.
PART 1. ABOUT CHILDREN.
1. Nature and nurture.
2. Health care and child health promotion.
3. Children with long-term medical conditions.
PART 2. A PAEDIATRIC TOOL KIT.
4. History taking and clinical examination .
5. Developmental evaluation.
6. Investigations and their interpretation.
PART 3. AN APPROACH TO PROBLEM BASED PAEDIATRICS.
7. The febrile child.
8. Respiratory conditions.
9. Gastrointestinal disorders.
10. Cardiac conditions.
11. Neurological disorders.
12. Development and neurodisability.
13. Growth, endocrinological and metabolic disorders.
14. Musculoskeletal disorders.
15. Renal and urinary disorders.
16. Genitalia.
17. Rashes and dermatological disorders.
18. Haematological conditions.
19. Emotional and behavioural problems.
20. Social paediatrics.
21. Emergency paediatrics.
22. The newborn.
23. Adolescence and puberty.
Self-Assessment.
Index.
New To This Edition
A thorough re-structure which retains the symptoms-based approach (chapters still begin with symptoms, history taking and examination, investigations) but is followed by a more intuitive systems based 'list' of disorders.

Now includes specific chapters on cardiac conditions and social paediatrics

A brand new text design including additional pedagogy such as 'How to use this book' and 'red flag' boxes.

Wiley Desktop Edition included in the purchase price of the book
Reviews
"Overall, this book is well presented in an attractive and user-friendly style." (Nursing Children and Young People, 1 February 2012)
"This edition has been updated to include new chapters on cardiac conditions and social pediatrics and new illustrations and photos. An online version of the book, videos on examination, and downloadable figures and illustrations are included." (Book News, 1 August 2011)
Better than competitor sunflower book. This book is the best out there for paediatrics.
I bought this book's competing book on the market before I found this book because it's been so well praised but it was a big disappointment (was so bombarded with wordy information that I couldn't recall the main points). Eventually i gave up on that book and bought this "Paeds and Child Health" book which i decided against in the first place. A big loss of money for buying 2 paeds book but it was one of the best decisions i've made in med school that saved me for the rest of my paeds rotation (I can finally answer questions in ward rounds!).
This book is organized both by body systems as well as symptoms. It functions both like a standard textbook yet organized like clinical cases. For example it had a chapter on "pain" then goes through the differentials properly like standard textbooks. It also has "at glance box" for each disease it describes. Very handy and helpful to memorize before exams. You don't even need to highlight the book because the main points are already grouped in the at a glance boxes. And if a consultant/registrar ask you a question just think of that little at a glance box and you'll be sure to impress. All in all, this is the book to buy for paeds.
By CloverBlu from an amazon.co.uk review, Feb 2011
Features
Covers child development from newborn to adolescent

Full colour throughout including photographs, line drawings and colour coded sections for ease of navigation

At a Glance boxes provide core information on common conditions and complaints.

A 'Finding your way round' mind-map opens each chapter

Students are guided to what they must know, be able to do and appreciate by boxes at the start of each chapter

Self-assessment Multiple Choice Questions (MCQs)

Supported by child examination video clips

Available as a FREE enhanced Wiley Desktop Edition (upon purchase of the textbook) - an interactive digital version of the book featuring downloadable text and images, highlighting and note taking facilities, book marking, cross-referencing, in-text searching, and linking to references and glossary terms