Painless Project Management: A Step-by-Step Guide for Planning, Executing, and Managing Projects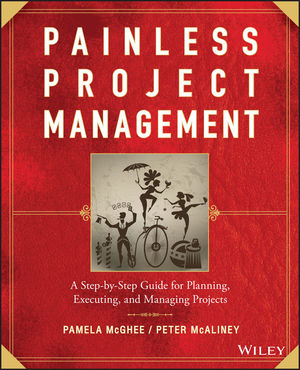 Painless Project Management: A Step-by-Step Guide for Planning, Executing, and Managing Projects
ISBN: 978-1-119-19750-8 October 2015 264 Pages
Description
A detailed guide to successful, efficient project management, written by two pros with a combined 55 years "in the trenches!"
Project management is a vital and growing component of many organizations and can literally make or break a company. In this step-by-step guide, two project management consultants present a comprehensive guide to effective project management, complete with real stories and case studies from actual project managers. This straightforward guide cuts through the technical jargon to present an easy-to-follow, easy-to-learn approach to executing any project from beginning to end. Project managers, as well as those who want to learn more about project management, will find this guide to be an indispensable resource for all their projects.
Preface.
PART I: THE PAINLESS FASTER, SIMPLER METHOD FOR SMALLER PROJECTS AND NEWER PROJECTS MANGERS.
Chapter 1: Introduction to Project Management.
Chapter 2: The Project Management Life Cycle, the Work Cycle, and the Business Context.
Chapter 3: Concept-Building the Business Case.
Chapter 4: Planning the Work and Working the Plan.
PART II: THE PAINLESS TRIED-AND TRUE METHOD FOR LARGER, MORE COMPLEX PROJECTS AND EXPERIENCED PROJECT MANAGERS.
Chapter 5: Developing the Project Charter fro Larger, More Complex Projects.
Chapter 6: Much, Much, More on WBSs, Networks, and Gantt Charts.
Chapter 7: Status Reporting: What to Tell, When, and to Whom.
Chapter 8: The Management Part of Project Management.
Afterword.
Appendix: Templates.
Index.
Takes a "just the facts" approach to making their process simple. Too many project management books are filled with technical jargon, complicated process, and lots of theory.  This book delivers a straight-forward cook-book approach to project management delivered in an easy-to-learn, easy-to follow and step-by-step approach to executing any project from beginning to end.

Includes tools throughout: The book is filled with tear out tools and downloadable forms that PMs can use for their own projects.
Download Templates
The templates for this title are stored in a ZIP archive. To open it, you will need a computer with software capable of opening ZIP files. If you do not already have this capability, you can download a free trial of WinZip. For more information visit the companion site.
Download