Pains in Public: 50 People Most Likely to Drive You Completely Nuts!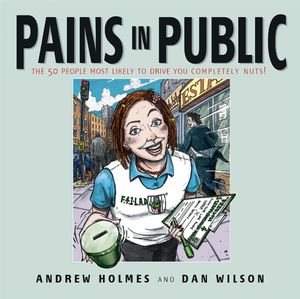 Pains in Public: 50 People Most Likely to Drive You Completely Nuts!
ISBN: 978-1-841-12642-5
Jan 2005, Capstone
214 pages
Description
How many times have people caused you misery while you go about your daily routine? How often has a religious nut knocked on your door intent on converting you or a stressed out shopper upended pyramids of Honduran ugli fruit in front of your trolley? You?ve tried isolation tanks, you?ve tried staying tucked up in bed all day, you?ve looked into selling your worldly goods and joining a retreat. At last there?s an effective way to fight back.

Pains in Public will help you spot, avoid and get your own back on the 50 worst types of people life throws up at you. This is a manifesto for the perennially grumpy. Down with pushiness, poor personal hygiene and fluorescent tabards. Together we can make the world a less painful place.

Pains in Public is guaranteed to become as indispensable to the upstanding citizen as an efficient neighbourhood watch scheme and a pooper scoop. It?s the perfect antidote to nightmarish civilians everywhere!
Pains - A Catalyst for Social Change.
Acknowledgements.
There's No Escape.
The Arguers.
The Armchair Critic.
The Attention Seeker.
The Brit Abroad.
The Celeb.
The Charity Tout.
The Chav.
The Clique.
The Cold Caller.
the crap parent
The Dawdler.
The Dinner Party Ponce.
The Dogger.
The Dogmess Merchant.
The Dreadful Driver.
The Fleshpot.
The Graffiti Artist.
The Gang.
The Gullible groat.
The Hobo.
The Killjoy.
The Laddette.
The Movie Going Moron.
The Nightmare Neighbour.
The Noisy Git.
The Parking Police.
The Partygoer.
The Pensioner.
The Plane Pain.
The Pollster.
The Protestor.
The Public Polluter.
The Pushy Salesman.
The Queue Jumper.
The Raging Bull.
The Religious Nut.
The Restaurant Rat.
The School Runner.
The Smoker.
The Soap Obsessed.
The Speed Camera.
The Stressed Out Shopper.
The Supermarket Sadist.
The Surly Shop Assistant.
The Swimming Pool Prat.
The Tardy Tradesman.
The Tourist.
The Toxic Teenager.
The Traveller.
The Unexpected Visitor.
Afterword.
"…has named and shamed the 50 worst offenders…" (Daily Star, 13
th
October 04)
"Featuring tardy tradesmen and ladettes, nightmare neighbours and traffic wardens ..." (The Scotsman, 15 October 04)