Pains on Trains: A Commuter's Guide to the 50 Most Irritating Travel Companions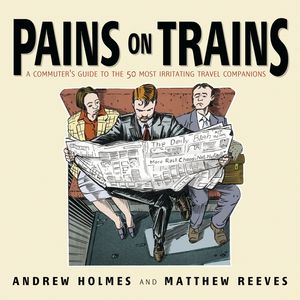 Pains on Trains: A Commuter's Guide to the 50 Most Irritating Travel Companions
ISBN: 978-1-841-12603-6 July 2004 Capstone 218 Pages
Description
Pains on Trains is the perfect way to take the tedium out of commuting, guaranteed to become as indispensable to the seasoned traveller as the blow-up pillow and water sterilising tablets.

In Pains on Trains, Andrew Holmes and Matthew Reeves set their sights on the scourge of the modern office worker - other office workers who clog up trains, buses, boats and planes with their annoying habits and depressing clothes. Pains on Trains is dedicated to the rush-hour veteran and consists of a 'pain-spotting' guide to the very worst people you meet on your daily commute. Each painful character is illustrated in their usual context and supported by a short narrative.
Preface.
Acknowledgements.
Trial by Commuting.
The Beggar.
The Belligerent.
The Born in a Stable.
The Broadsheet.
The City Boy.
The Clique.
The Creative.
The Deadbeat.
The Death Breath.
The Double Seater.
The Drunk.
The Engager.
The Enquirer.
The Family.
The Fast Fooder.
The Flamboyant Groin.
The Gadget.
The Gaggle.
The Group.
The Hero.
The High Flier.
The Later Stater.
The Lovers.
The Make Up Artist.
The Mammoth.
The Mobile Phoner.
The New Worker.
The Night Clubbers.
The Nose Picker.
The Nutter.
The Over Your Shoulder.
The Pervert.
The Phantom Farter.
The Reservist.
The Ritualist.
The Sardine Packer.
The Sleeper.
The Social Climber.
The Spinster.
The Starer.
The Stinker.
The Stretcher.
The Territorialist.
The Texter.
The Toff.
The Train Timer.
The Traveller.
The Vomiter.
The Wheeled Caser.
The Youth.
Afterword.
""…start 'pain spotting' and put the fun back in to commuting…"" (Publishing News, 12 September 2003)
""…A new book Pains on Trains offers advice on taking it all [irritating commuters] in your stride...""(Daily Mirror, 24 October 2003)
""…hugely funny…"" (Oxford Mail, 31 October 2003)
""…Pains on trains is a hugely funny and brilliantly Observed look at the different types of people…"" (Edinburgh Evening News, 1 November 2003)
""…hugely funny…"" (Cambridge Evening News, 8 November 2003)
""…hysterically accurate…"" (Southern Daily Echo, 8 November 2003)
""…brilliantly observed…"" (East Anglian Daily Times, November 2003)
""…hysterically accurate…with wonderful descriptions and illustrations…"" (Irish News (Belfast), 1 November 2003)
""....I like to think of myself as fairly curmudgeonly, though I am mild-mannered compared to Andrew Holmes and Matthew Reeves who have produced a book called Pains on Trains...this consists of 50 different types of people who annoy the authors on trains..."" (The Guardian, April 2006)