Painting with Numbers: Presenting Financials and Other Numbers So People Will Understand You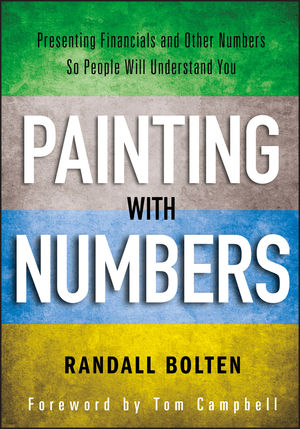 Painting with Numbers: Presenting Financials and Other Numbers So People Will Understand You
ISBN: 978-1-118-17257-5 April 2012 352 Pages
Description
Learn how to communicate better with numbers
Whether you are distributing a report or giving a presentation, you have a lot of numbers to present and only a few minutes to get your point across. Your audience is busy and has a short attention span. Don't let an amateur presentation bog you down, confuse your audience, and damage your credibility. Instead, learn how to present numerical information effectively—in the same way you learned how to speak or write. With Painting with Numbers, you'll discover how to present numbers clearly and effectively so your ideas and your presentation shine.
Use the Arabic numeral system to your advantage master the use of layout and visual effects to communicate powerfully
Understand how audiences process your information and how that affects your "personal brand image"
Learn how to be perceived as a professional who truly understands the business concepts and issues underlying your numbers
Use software tools, including Excel, PowerPoint, and graphs, efficiently and to drive home your point
Author Randall Bolten shares his decades of experience as a senior finance executive distilling complicated information into clear presentations, to help you make your numerical information more comprehensible, meaningful, and accessible. Painting with Numbers is brimming with hands-on advice, techniques, tools, rules, and guidelines for producing clear, attractive, and effective quantation (the word the author has coined for the skill of presenting numbers).
Foreword
xiii
Preface xv
Acknowledgments xvii
introdUCtion This book Is Not About Numbers—Honest! 1
Being "Literate" 2
It's What They Think That Matters 2
What You Were Never Taught 3
The Ultimate Goal 5
Some Notes about Reading This Book 5
Part I the rules 11
Chapter 1 Numerals Matter 13
Lining Up the Numbers 14
The Units of Measure 16
Precision 17
Negative Numbers: What Do They Mean? 20
Chapter 2 Looks Matter 25
The Tabula Rasa Decision 26
The "Where's Waldo?" Effect 27
White Space Is Your Friend 29
But White Space Is Not Always Your Friend 30
Time and Other Dimensions: Across or Down? 33
Borders, Shading, and Other Visual Effects 35
Comments and Artwork 41
The "Ransom Note" Effect 43
Two Truly Helpful Hints 44
Chapter 3 Words Matter 47
Mean What You Say and Say What You Mean 48
Choosing between Precision and Presentability 52
Treating Words Like Numbers  55
Remember the Title. Please 57
Chapter 4 Your Audience Matters   61
The Right Amount of Data   62
Appropriate Emphasis on Critical Information 64
Consistency  67
Meaningful and Relevant Numbers  69
Respect for Your Audience's Time  73
Wrap-Up for Part I: The Rules  77
Part II The Tools 81
Chapter 5 You Can Pay Me Now   83
The Instant Payoff Tips  85
Instant Payoff Tip #1: Set Up Templates and Styles  85
Instant Payoff Tip #2: Customize Your Toolbar  86
Instant Payoff Tip #3: Learn Some Shortcut Keys  87
Instant Payoff Tip #4: Use Consistent Formats  89
Instant Payoff Tip #5: Learn to Use Excel as a Database  90
Instant Payoff Tip #6: Learn to Use the Lookup & Reference Functions  94
Instant Payoff Tip #7: Organize Data for Easy Computation  95
Instant Payoff Tip #8: Learn to Use Automated Help  98
Instant Payoff Tip #9: Don't Learn Too Many Ways to Do the Same Thing  99
Chapter 6 . . . Or Pay Me Later 103
The Long-Term Payoff Tips  104
Long-Term Payoff Tip #1: Use Sensible, Intelligent Filenames and Folder Organization  104
Long-Term Payoff Tip #2: Use Consistent Formats 106
Long-Term Payoff Tip #3: Design Intelligent, Intelligible Formulas  106
Long-Term Payoff Tip #4: Use Named Ranges  110
Long-Term Payoff Tip #5: Use Named Formulas or Macros 112
Long-Term Payoff Tip #6: Links: A Force That Can Be Used for Good or Evil  117
Long-Term Payoff Tip #7: Make Different Types of Cells Visually Distinguishable and Physically Separate  118
Long-Term Payoff Tip #8: Document Your Work!  120
Long-Term Payoff Tip #9: Check Your Work!  121
Long-Term Payoff Tip #10: Avoid Cool New Features  122
Chapter 7 Graphs: The "Cartoons" of Numbers   125
Why Do People Use Graphs?  126
Help Your Audience 127
First, Do No Harm 138
Chapter 8 The Pitfalls of Presentations and PowerPoint
 153Why Do People Make Fun of Business Presentations?  154
Real Estate Is a Scarce and Precious Commodity  154
Help Your Audience  156
First, Do No Harm  161
Some Basic Truths That Go Double for Quantation  162
Wrap-Up for Part II: The Tools  166
Part III Real Mastery   169
Chapter 9 It's Clear, but Is It Meaningful?   171
The War of the Adjectives  171
A Quantation Professional  173
Relating to Your Audience in a Constructive Way  174
Chapter 10 53 . . . Uh, Is That a Lot?   179
What Is a Key Indicator?  180
What Makes a Good Key Indicator?   183
A Simple Example  185
How Do You Present Key Indicators Effectively?  185
A Note on Precision  190
A Note on Dashboards  191
Chapter 11 The One Report Every Organization Needs   197
A Sample Natural P&L, and What Makes It a Good One  199
1. One Page!  200
2. Decision-Focused Line Items  200
3. Appropriate Dollar Amounts, neither Too Big nor Too Small  204
4. Intuitive Organization of the Line Items 205
5. Understandable Categories, Meaningful to All Users  208
6. Plain-English Terminology  208
7. Consistent Look-and-Feel  209
8. Key Results Equal to the Corresponding Numbers in the Accounting System (or an Explanation Why Not)  209
Mapping the Chart of Accounts  211
Generate a Natural P&L from a Spreadsheet, or from the Accounting System? 212
Now Let's Talk about the Columns  213
Appendix 11A a Sermon to the Accounting Purists   219
Chapter 12 The Gaps in GAAP   225
Rules-Based versus Principles-Based  226
Where Is All This Headed?  227
"Expensing" Stock Options  228
Software Revenue Recognition  230
Tying GAAP to Internal Management Reports 232
Appendix 12A Some Notes on GAAP   235
What Is GAAP?  235
Stock Options  236
Revenue Recognition  237
Chapter 13 Quantation: It's Not Just for Business Anymore   239
One Taxpayer at a Time  240
All the Taxpayers at Once  243
What's Really Going on Here?   249
Chapter 14 Quantation in Ordinary Life   255
Models  255
The Meaning of Words  260
That Quiz I Promised  263
Part IV Wrap-Up   269
Chapter 15 Speaking Truth to Power   271
My "Tell the Truth" Syllogism  272
Reason #1 for Telling the Truth: It's the Right Thing to Do  272
Reason #2: It's in Your Employer's Interest  272
Reason #3: It's in Your Interest   273
Reason #4: You Will Get Caught  273
Reason #5: It's the "Gotcha" of This Book  275
Don't Be So Smug, You Civil Servants and Elected Officials!  276
Your Audience Has a Role, Too  276
Chapter 16 Now, What's the First Thing You Do?   281
My Last, Best Tip  282
It's Just a Skill  282
Where We Have Been  283
Appendix Jazz Meets Theology   287
Revisitation  288
The Sins of Presentation  289
The Sins of Behavior 297
The Deadliest Sin of All 301
About the Author 305
Index   307
Painting with Numbers does an excellent job of covering all the topics that go into effectively communicating with numbers. Bolten's style of writing is engaging, entertaining, and, most important, effective at delivering his message. This book hasn't only become a key reference on my bookshelf, but I also now have a comprehensive, textbook-style reference to use when I mentor others on communicating effectively with numbers." (Bill Boehman, CMA, CPA, Strategic Finance Magazine, January 2013)
"There actually are quite a lot of annoying things that accountants and analysts do with spreadsheets and PowerPoint presentations. By the time I finished the first section of the book, I had thought of five or six experienced accountants at clients or companies I am investigating to whom I would like to give this book." (
The Value Examiner
, Sept/Oct 2012)
"If you're doing investment pitches, you should read this book. If you're doing a pitch I'm going to see, I want you to have read this book. And if you're a startup CFO, finance lead, bean counter, or presentation slide deck preparer, then you should read this book." (Gust.com, June 2012)
"Do you want to tell a story with numbers? If so, I recommend you run, don't walk, to buy this book." (Life Insurance Selling Magazine, June 2012)


Praise for Painting with Numbers
FROM REVIEWS:
"I highly recommend the very accessible and process based book Painting with Numbers: Presenting Financials and Other Numbers So People Will Understand You by Randall Bolten, to anyone in business, public policy making, analysis, science, or any occupation or profession who works with numbers and must present that data to an audience. This book will improve your numeric and overall presentation skills, boost your career, and create a more successful business."
—Wayne Hurlbert, Blog Business World
"Painting with Numbers: Presenting Financials and Other Numbers So People Will Understand You [is] a book that will help you overcome the stigma of presenting numbers and allow you to give more effective presentations involving numbers.... For those in the financial world, Bolten's book is perfect if you're looking to give more successful presentations. It's as simple as that. You will be doing yourself – and your career – a huge favor."
—David Domzalski, FinancialBin.com
"Painting with Numbers, by Randall Bolten [is] the best book I've seen on how to present numbers with skill. Randall was a CFO for twenty years in Silicon Valley, so he's got the benefit of seeing all the various ways, shapes, and sizes that people throw numbers around.  He's exactly the right person to learn from when it comes to seeing through the numbers, knowing what they mean, and knowing how to present them more effectively to speak the truth, and to make better decisions ... in work and in life.
It's a book I'm going to recommend to the people I mentor to help them advance their careers and take their game to the next level."
—J.D. Meier, MSDN Blogs
FROM SPEAKING ENGAGEMENTS:
"I've seen Randy Bolten's presentation about his book, Painting with Numbers(Wiley 2012) twice. Randy focuses on communicating numerical data. As a former CFO in the semiconductor industry, he has faced many a room full of high-level executives, and he has seen many a financial presentation -- some clear, many not so clear. His precepts are down-to-earth tips that anyone can learn to use. Simple, but not trivial. They fit into the half-hour between generating the numbers and publishing the report."
—Richard Mateosian, STC Fellow (Society for Technical Communication)
"Randall's relaxed and personable presentation style made it easy to connect with the audience. He brought the definition of "quantation" to life with useful examples of how we, as professional communicators, can more clearly present financial information. I've seen enough bad presentations in my career to know that this information will be helpful to many."
—David Gennarelli, Director, Investor Relations, Autodesk, Inc., and President, SF chapter of NIRI (National Investor Relations Institute)
"Great presentation! Randall is an engaging and hugely knowledgeable speaker, who gave us a much-needed wake-up call about the importance of mastering financial communication. Not only was it useful, but thanks to Randall's humor and warmth, everyone enjoyed the ride. I highly recommend him!"
—Rikke Jorgensen, VP Programs & Professional Development, International Association of Business Communicators, San Francisco chapter