PaleoBase: Macrofossils, Part 2 (Site Licence)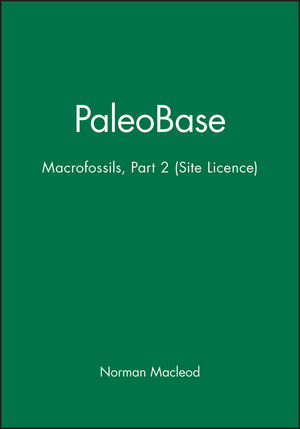 PaleoBase: Macrofossils, Part 2 (Site Licence)
ISBN: 978-0-632-06427-4
Aug 2003, Wiley-Blackwell
Description
PaleoBase is a new initiative in the presentation of systematic information on fossil organisms. It represents the marriage of up-to-date systematic information on a collection of over 1500 fossil genera, state-of-the-art color digital photographs of representative specimens from The Natural History Museum's unrivaled paleontological collections, and modern relational database technology. With PaleoBase an important new tool for the teaching of life history in a wide variety of advanced secondary, undergraduate and graduate courses (e.g., paleontology, historical geology, stratigraphy, paleoceanography, paleobiogeography) becomes available to students and educators alike.



PaleoBase: Macrofossils is the first product from the PaleoBase project, and will be released in three Parts. It will consist of approximately 1000 generic records drawn from the major invertebrate groups. The genera have been carefully selected to include taxa used in the teaching of paleontology and historical geology worldwide. Together they represent the ideal fossil collection; one that in practice only the largest natural history museums could hope to assemble. PaleoBase: Macrofossils gives educators, students and researchers access to a virtual collection of these fossils - many of which are actual figured specimens from the 19th and 20th century technical publications that served to originally establish the concepts of these genera.


PaleoBase: Macrofossils Part One contains data on the Arthropods (non-Trilobite), Brachiopods, Bryozoans, Graptolites, Trace Fossils and Trilobites.


Part Two contains Bivalves, Gastropods, Ammonoids, Nautiloids, Coleoids and Early Metazoans.


Part Three will cover Cnidaria, Echinoderms, Sponges, 'Other' fossil groups.




For an online demonstration and guided tour of PaleoBase: Macrofossils please visit:
www.paleobase.com/



For an information brochure, or for any queries, please e-mail paleobase.support@oxon.blackwellpublishing.com






For details of our site licence please click here.
Bivalves.
.
Gastropods.
.
Ammonoids.
.
Nautiloids.
.
Coleoids.
.
Early Metazoans
"... as an overall guide and introduction to the study of fossil molluscs this is an excellent product that I can recommend without hesitation."
Alistair Crame, British Antartic Survey, Bulletin of the Malacological Society of London, March 2004
<!--end-->
"... PaleoBase opens a new window on the fossil record. Based on the superb fossil collections of London's Natural History Museum it is a developing digital database, and is revolutionising the teaching of palaeontology... Part 2 has a wealth of up-to-date information plus 800 images of more than 300 fossil molluscs ..." Douglas Palmer, New Scientist, March 2004

"...a truly wonderful teaching tool...provides a great resource for those seeking to identify fossils..." Palaeontologia Electronica, September 2004

"Macrofossils Part 2 doesn't disappoint as a follow on to Part 1. It is well designed and organized and the photography is stunning. Any of you who picked up the first Paleobase will want to be sure to acquire this sequel. Anyone who teaches earth science at the secondary or college level should be sure to get a copy as well...You can't lose with this one!" Fossil News, January 2005

"...an effective virtual supplement to undergraduate palaeo practicals, forming a bridge between textboosks and real specimens." Geological Magazine, November 2005
* versions for Mac and PC, single user and site licence
* high-quality digital images of representative specimens in full color that can be magnified to reveal additional morphological detail
* complete systematic descriptions incorporating the latest information and written by experts from The Natural History Museum's Department of Palaeontology
* a morphological key for each group that can be used to study morphological character distributions or aid in the identification of "unknown" specimens from local collections
* a complete classification for each genus
* descriptions of the genus' geographical and paleogeographical distribution
* a summary of each genus' chronostratigraphical distribution
* identification of each genus' original shell mineralogy
* a complete glossary of all morphological terms used in the genus' descriptions
* a complete bibliography that connects the information provided by Macrofossils to the larger technical literature