PaleoBase: Macrofossils, Part 3.0 (Single User)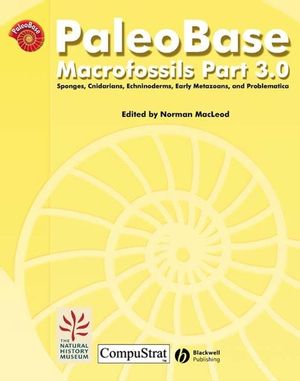 PaleoBase: Macrofossils, Part 3.0 (Single User)
ISBN: 978-0-632-05892-1 August 2010 Wiley-Blackwell 256 Pages
Description
PaleoBase represents a unique combination of up-to-date systematic information on an extensive collection of fossil genera, state-of-the-art color digital photographs of representative specimens from The Natural History Museum's unrivalled paleontological collections, and modern relational database technology.






High-quality zoomable digital images

Complete systematic, life-habit and paleoecological descriptions by taxonomic specialists from The Natural History Museum, London

Chronostratigraphic and paleogeographic distribution

Glossary of terms and bibliography

Full search either by name, age, chronostratigraphy, or morphology

Morphological keys and labelled images
PaleoBase Macrofossils Part 3 contains records of Cnidaria, Echinoderms, Sponges, and 'Other' fossil groups.

For an online demonstration and guided tour of PaleoBase: Macrofossils please visit: www.paleobase.com/

For an information brochure, or for any queries, please e-mail paleobase.support@oxon.blackwellpublishing.com
Cnidaria, Echinoderms, Sponges, 'Other'
This software is an excellent instructional resource for teaching in both small and large palaeontology classes
Bruce Lieberman in Palaios Vol 17
An invaluable tool for any university that teaches undergraduate level palaeontology .....students will love it Rod Taylor in Geol Mag 138
Is this the future of paleontological publishing? We can only hope. Fossil News march 2001
Versions for Mac and PC, single user and site licence.

High-quality digital images of representative specimens in full color that can be magnified to reveal additional morphological detail.

Complete systematic descriptions incorporating the latest information and written by experts from The Natural History Museum's Department of Palaeontology.

A morphological key for each group that can be used to study morphological character distributions or aid in the identification of "unknown" specimens from local collections.

A complete classification for each genus.

Descriptions of the genus' geographical and paleogeographical distribution.

A summary of each genus' chronostratigraphical distribution.

Identification of each genus' original shell mineralogy.

A complete glossary of all morphological terms used in the genus' descriptions.

A complete bibliography that connects the information provided by Macrofossils to the larger technical literature.