PaleoBase: Macrofossils Part 1 (Site Licence)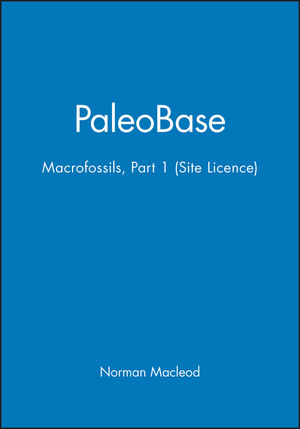 PaleoBase: Macrofossils Part 1 (Site Licence)
ISBN: 978-0-632-06426-7
Jan 2001, Wiley-Blackwell
Description
PaleoBase is a new initiative in the presentation of systematic information on fossil organisms. It represents the marriage of up-to-date systematic information on a collection of over 1500 fossil genera, state-of-the-art color digital photographs of representative specimens from The Natural History Museum's unrivaled paleontological collections, and modern relational database technology. With PaleoBase an important new tool for the teaching of life history in a wide variety of advanced secondary, undergraduate and graduate courses (e.g., paleontology, historical geology, stratigraphy, paleoceanography, paleobiogeography) becomes available to students and educators alike.



PaleoBase: Macrofossils is the first product from the PaleoBase project, and will be released in three Parts. It will consist of approximately 1000 generic records drawn from the major invertebrate groups. The genera have been carefully selected to include taxa used in the teaching of paleontology and historical geology worldwide. Together they represent the ideal fossil collection; one that in practice only the largest natural history museums could hope to assemble. PaleoBase: Macrofossils gives educators, students and researchers access to a virtual collection of these fossils - many of which are actual figured specimens from the 19th and 20th century technical publications that served to originally establish the concepts of these genera.



PaleoBase: Macrofossils Part One contains data on the Arthropods (non-Trilobite), Brachiopods, Bryozoans, Graptolites, Trace Fossils and Trilobites.



Part Two and Three will cover the remaining fossil groups, and are scheduled for release in Late 2000 and Late 2001 respectively.



For an online demonstration and guided tour of PaleoBase: Macrofossils please visit:
www.paleobase.com/



For an information brochure, or for any queries, please e-mail paleobase.support@oxon.blackwellpublishing.com



For details of our site licence please click here.
contains over 350 records and 800 images for the following fossil groups: Arthropods (non-Trilobite), Brachiopods, Bryozoans, Trace Fossils, Trilobites, Graptolites
"Software packages like these [...] signal new ways to present, evaluate, and synthesize paleontological data, and also to educate future paleontologists. In short, we can be grateful for such packages, and also are likely to utilize them fully."
Bruce S Lieberman, Palaios, Vol. 17, No. 1, Feb 2002
<!--end-->
"PaleoBase is a comprehensive, easy to use resource for fossil fans, with great educational value. Each of the five fossil groups it covers is well represented, and the photographs, though usually of European species, are superb. [...] ...overall, PaleoBase rocks." California Wild, Summer 2001

"Paleobase represents what was probably an inevitable union: the old world of specimen-based fossil studies, and the new world of computers and digital information. And an impressive union it is! In a nutshell, Paleobase provides an easy-to-use interface (outlined in a simple but effective tutorial), well-organized and easily accessed information, and good quality photographic images."

"I feel it will prove to be an invaluable tool for any university that teaches undergraduate-level palaeontology, especially if actual fossil specimens are few."

"All in all, I feel that Norm MacLeod, Blackwell Science, The Natural History Museum and CompuStrat have done a delightful job on this program. Students genuinely interested in palaeontology will love it, and professors who use it in their classes and labs will no doubt consider it a welcome addition to their syllabus." Geological Magazine, Vol 138/4, 2001

"Dr Norman MacLeod, now Keeper of Palaeontology at the Natural History Museum in London, has produced a CD-ROM fossil database package 'PaleoBase: Macrofossils Part 1" which displays much refinement and technical finesse." Sue Turner, The Australian Geologist, June 2002

"the software is impressive. It is easy to use with only a tiny amount of effort (good for people like me) and seems to be genuinely powerful in allowing quick linking together of taxa united by disparate criteria such as shared ecology or range.
[...]
I started out determined to write rather a bad review of PaleoBase, but I was considerably mollified by the end of my effort. Perhaps that is in itself a reasonable recommendation of the package!" Graham Budd, The Palaeontological Association Newsletter, Number 49, 2002

"PaleoBase has been designed with great thought and attention to detail...it very effectively illustrates the practical aspects of working with fossils and would make excellent reference material for supporting a taught course." Dr Richard Sherburn, University of Reading, Journal of Biological Education, August 2004
* versions for Mac and PC, single user and site licence
* high-quality digital images of representative specimens in full color that can be magnified to reveal additional morphological detail
* complete systematic descriptions incorporating the latest information and written by experts from The Natural History Museum's Department of Palaeontology
* a morphological key for each group that can be used to study morphological character distributions or aid in the identification of "unknown" specimens from local collections
* a complete classification for each genus
* descriptions of the genus' geographical and paleogeographical distribution
* a summary of each genus' chronostratigraphical distribution
* identification of each genus' original shell mineralogy
* a complete glossary of all morphological terms used in the genus' descriptions
* a complete bibliography that connects the information provided by Macrofossils to the larger technical literature